Syrian Christians Recount Islamic State Raid, Abductions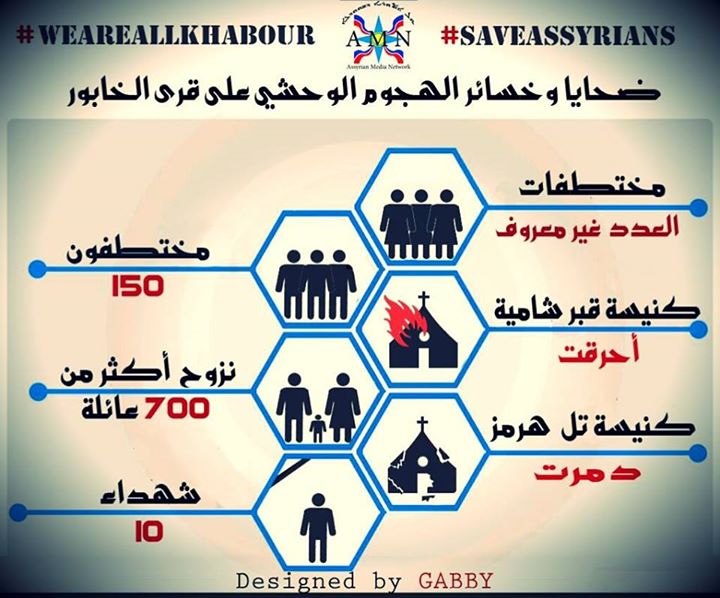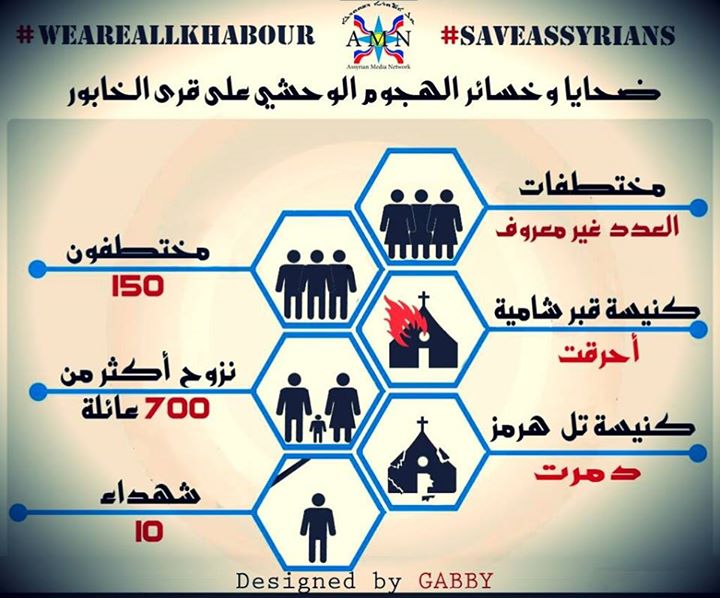 "We woke at around four in the morning to the sound of bombs and we ran from our houses," said Elias Touma, who survived an Islamic State attack on Tel Sukra, one of a string of Assyrian Christian villages in northeast Syria which the militants raided last week.
Islamic State (IS) fighters abducted at least 150 Christians and burned down churches as they tore through villages spread out along the river Khabur, west of the city of Hassakah
The attack was launched at dawn on February 23, and over the next 48 hours, IS overran settlements including Tel Shamiram, Tel Talaa, Tel Tal, Tel Hormuz, Qabr Shamiya and Tel Sukra. The villages were targeted as they are home to members of the Assyrian (Syriac) Christian minority.
"The battle began with a volley of mortar shells on the village, and Tel Shamiram was attacked at the same time," Touma told Damascus Bureau. "They were shelling all along the south bank of the Khabur, as we later found out. The IS militants were fully armed with projectiles that rained down on the village from all sides.
"In the morning we heard a loud explosion and the earth shook under our feet," Touma. "My brother Udisho began screaming, 'Look, they've blown up the church.' I looked, and the church was a pile of rubble."
The IS force blew up or torched Christian churches in villages including Tel Hormuz, Tel Shamiram, Tel Jazira and Qabr Shamiya.
Casualty figures are still unclear, but three members of the Syriac Security Office militia are reported dead. Ten members of a village protection force called the Khabur Guards are reported missing.
"The church, the home – these things can be rebuilt if they are destroyed. But once a person is gone, he is gone for good," Touma said.
As they swept through, the militants abducted at least 150 men, women and children from the Assyrian (Syriac) Christian minority who populate the area. Some sources put the number at around 250 people.
The Assyrians were taken to Shaddadi, an IS stronghold about 50 kilometres south of al-Hassakah. Linda Ilya, an Assyrian activist, says a source in Shaddadi told her the captives included 81 women.
"IS militants have dispersed the abducted persons among various houses in the town," Ilya told Damascus Bureau by telephone. "They may be used as human shields to try to the deter bombing of IS sites."
At the same time, she said she had heard IS planned to "prosecute" their captives.
Osama Edward, head of the Assyrian Human Rights Network, said that as raiding continued on February 24, IS militants "took more civilian hostages, most of them women and children who were unable to flee from Tel Kouran, Tel Jazira and Tel Hormuz".
"The fate of those hostages remains unknown," Edward told Damascus Bureau, "although there are reports that some of them were transferred on Tuesday night [February 24] to Shaddadi to be used as human shields and prevent coalition forces from bombing the area."
The Assyrian Monitor for Human Rights organisation reported that 23 people abducted from Tel Kouran were later released, apparently after agreeing to pay "jizya", a tax which IS impose on non-Muslims. To ensure they did so, the militants kept a ten-year-old girl and her mother as hostages.
About 1,400 families left the Khabur river villages and sought refuge in the cities of Hassakah and Qamishli.
"We have limited resources and people's needs are great. Local organisations are unable to provide for all the displaced, particularly in Hassakah, where there are a lot more refugees," a civil society activist in Qamishli said, calling for swift action from international organisations.
There are an estimated 600,000 to 800,000 Assyrians in Syria, mainly concentrated in Hassakah, Aleppo, Damascus and Homs provinces as well as a smaller community on the coast. Qamishli still has one of the largest Assyrian populations, although many have emigrated to neighbouring countries and Europe since the Syrian conflict began.
Most of the villagers living along the river Khabur are descendants of Assyrians from Iraq, who fled to Syria to escape mass killings in 1933. Iraqi troops led by General Bakr Sidqi carried out a series of massacres culminating in the town of Simele, where the fleeing Assyrians had gathered.
Despite the trauma of the latest attack, Touma retains a stoic outlook.
"The church, the home – these things can be rebuilt if they are destroyed," he said. But once a person is gone, he is gone for ever."
Akad Abdul-Ahad is a journalist in Syria.