An Unfriendly Welcome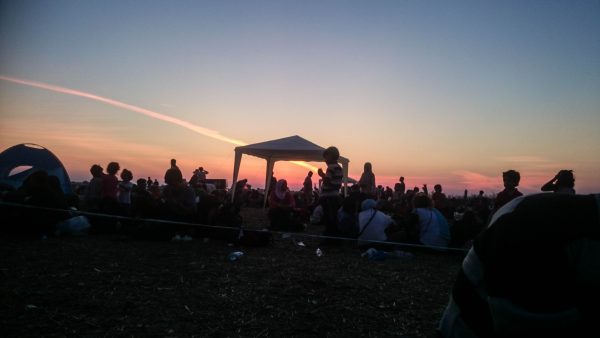 A group of displaced people wait at dawn at a train station in Greece – Photo: Ahmad Khalil
When my husband returned from more than two weeks of military service in the Afrin countryside, he was exhausted. He didn't even notice me or the children. He just ate, put his head on his pillow and fell into a deep sleep.
I didn't want to bother him, as I knew that his job manning a security checkpoint was hard. I sat there looking at him. He seemed as tired as if he had been working for 100 years. I didn't want to disturb him, so the children and I left the room.
He slept right until the next day. In the morning he woke up feeling more energetic, so I asked him why he had been so tired. He told me that he hadn't slept for many nights and had suffered a lot during this trip and apologised. He went to the children, embraced and kissed them, with an exaggerated smile on his face.
He spent the day with us telling us about his work and life in the village where he was posted. He said that he wanted to take us with him, so we could lead a quiet life away from warplanes and fighting. He said that he couldn't keep on going back and forth, staying there for 15 days then returning home. If we were with him at least he would know that we were safe, and once he finished his shift he could return home to his wife and children.
I began to think about my husband's request and consider whether we should go with him. We had previously followed him to the al-Raqqa countryside and I wondered whether we would be repeating the same scenario, living amongst strangers and the Islamic State. When I remembered that past experience, I decided to refuse. However, after many arguments with my husband, I had no choice but to obey him.
My husband told me to leave everything behind and take only my clothes. He said that many houses had been commandeered by the free army, and we could live in a furnished home there. I wasn't comfortable with that idea, but I had no choice but to keep quiet and accept my fate.
After a long and exhausting journey, we finally arrived in Jindires, a town in Afrin. The strange name of the town intrigued me. After asking about it, I was told that the name was derived from a Roman commander named Ires who had set up a military camp in the area. Over time, the town had become known as Jind Ires – Ires's soldiers in Arabic – and some Roman ruins could still be seen in the town.
My husband went to his base, and one of his comrades took us to a small deserted house nearby where we could stay until we found permanent accommodation. There were many houses in Jindires, but most were inhabited by people from Damascus, specifically from Eastern Ghouta, after the regime had forced them to leave the Syrian capita.
I entered a dark room that had no windows or natural light. At first, I thought it was a rubbish dump since it was very dirty and was filled with empty bags. I sat on the floor and looked at my husband's face. How could you bring us here, I thought. How much must I suffer before you let me live with my children in peace? These questions were left unasked.
After suffering a few days in that room, we moved to a furnished house in Jindires. I was much happier with this beautiful house that my husband had received. However, a just few days later, I began to notice the difficult living conditions around us. Here, the sound of bombs was even louder than that of the airstrikes in our previous home.
Living there was completely different from what we were used to. From the Kurdish point of view, we were the aggressors who had invaded their land, and so how could they be friendly towards us? I felt that they stared at us.
The area wasn't safe. Several times when I was alone with my children we would hear someone knocking on the door. I could sense that there was someone there, but no one answered when I asked who it was. I was concerned for my children and for my own safety. We didn't know anyone in the village and my husband spent most of his time out of the house.
One night after my husband came home, I told him what had happened and that it wasn't the first time. I said that ever since we moved to the house we had felt that someone was watching us. My husband was worried and assured me that he would take care of the problem and monitor the house. My husband kept an eye on the house but saw no one.
After a long discussion, my husband and I decided to return to our town. Jindires was more like a prison.
I was very happy to leave and return home. I will never leave my hometown again, no matter how much my husband and I disagree on this matter. Even if it leads to my divorce, I will still never leave my town again.
Doha Abbas is a 40 year-old housewife and mother-of-five from the Idlib countryside.