Syrians Turn to Online Learning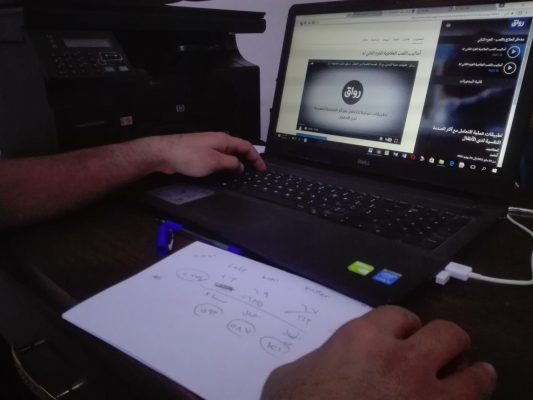 Follow-up training via the Rwaq platform. Photo: Ihab al-Bakkur
Adult education is going online as a way to overcome the difficulties of studying amid the Syrian conflict, with finance, education and e-commerce courses proving particularly popular.
"I chose virtual courses because they save time, effort and expense and most of the courses available in our region are far from where I live," said Abdul Sattar Barakat, 23. "Virtual courses aren't limited to a certain hour and give me the ability to organise my time. In general, it's the ideal solution for young people in our liberated areas because of the difficult situation."
Ahmed Abdel-Majid, the director of the Online Academy service, said that there were a number of specialities that had been neglected since the revolution began, particularly in the field of management. These included project, strategic and crisis management courses, in addition to administrative leadership.
He added, "Virtual training focuses on transforming the internet from a tool for wasting time into a tool for self-development," he said, adding, "Our current conditions mean that there is an urgent need for virtual courses.
"There are hundreds of people hungry for knowledge but the conditions of war and the difficulty of movement prevent them from accessing it."
He explained that technology was now so highly developed that students could have a truly immersive experience online.
"Audio and video technologies available to everyone facilitate the transfer of information of any kind right to the ears and eyes of the receiver," Abdul-Majid continued. "Therefore, the receiver is easily able to interact with the trainer via voice, image and messaging."
Although the format was popular, there was a problem with the lack of regulation, he acknowledged.
"There are recognised bodies, which are certified by an international body, such as our academy, which is certified by German board. Then in contrast, there are unlicensed and unrecognised centres, because there is no control or authority in the liberated areas."
Child protection trainer Iman al-Najem, 35, said that her work had shown her that Syrians were thirsty for learning and noted a significant level of female participation.
Although she said preferred to work face-to-face with her students, she added, "Virtual training is effective if the trainer and trainees can't be in the same place and amid difficult situations like crossing borders and conflicts."
She cautioned, however, that online learning could not replace real-time studies.
"Virtual education shouldn't be the only alternative for young Syrians. Direct education includes communication and builds life skills. Universities, schools and training centres create an integrated social life in which a person acquires experiences, friends and knowledge."
But online fora fill an important need. Noha Haj Ibrahim, a 22-year-old student at the department of government management at Rushd Virtual University, said, "Virtual education has been a suitable solution for girls in particular. It has become very difficult to travel to and from universities and places of education. I am one of those who found the solution in remote learning and I know many girls who also study virtually."
This way of studying is sometimes expensive, explained Hossam al-Khalaf, a 31-year-old displaced from Homs.
"I have taken several sessions, three of them on the Rwaq platform, but…I want courses that enable me to get an academic degree or a diploma, for example," he said, adding that more in-depth courses such as family education consultant or international advanced coach diploma were expensive.
Abdul Majid agreed that some centres exploited students, adding that "the centres and academies that succeed in maintaining their reputation will remain, while those that exploit the difficult conditions of the Syrians will fail".
Ultimately, regulation by a central education authority was needed, he continued.
"The centres and platforms inside Syria will be successful and able to provide education for all when they are under the supervision of the government," Abdul Majid concluded .