Empowering Women Farmers in Rif Idlib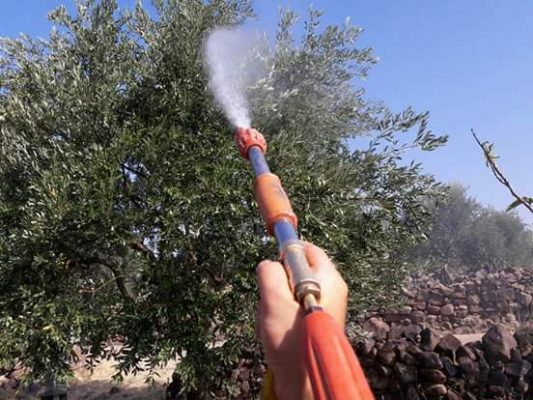 Um Mohammad, 40, was delighted when she was accepted on to the Means of Living project to help support her with the family's olive harvest.
"Ever since my husband was arrested in 2014 by the regime army, our fields have been neglected as we didn't have enough money to allow us to take care of the trees," she said. "Now, the situation has really improved."
The Sadad Humanitarian Organisation (SHO) launched the project to support widows and the wives of detainees through agricultural projects.
Um Mohammad explained that, previously, the cost of tending to her olive trees was more than her harvest was worth.
"I received considerable support from SHO as it provided my long-neglected trees with the necessary pesticides and nutrients, in addition to assigning workers to gather olives in due season and paying for the cost of pressing them, all of that for free," she said, adding that she now makes a real profit.
"This humanitarian project supported us, the breadwinners affected by the war, in our weakest state," she concluded.
The project has 1,000 beneficiaries and is running in several villages of Jabal az-Zawiya and Southern Idlib Rif, including Kafer Nabel, Hezrin, al-Ftire, Sfouhen, Kfar Oueid, al-Bara, al-Mizra, Hass, Bsqala, and Knsafra.
"The project was launched on July 1, 2017, and it is set to continue until March 2018," an SHO spokesman said. "Our project aims to provide help and empower women, particularly those providing for their families, by taking care of their harvest and the same time increasing olive productivity in order to create better revenues."
Beneficiaries have plots of farmland smaller than five dunams and are either the wife of a martyr or a detainee, or have a disabled family member.
Another Means of Living project has also been rolled out in the villages of al-Rakaya, Madaya and al-Naqir in Southern Idlib Rif.
Zouheir as-Salloum, director of the council of local villages, said, "Our mission, as a council, is to oversee the implementation of all phases of the project, as SHO provides all the basic and logistical needs of these women."
He explained that the project ran for nine months.
"In the first four months, training was provided to the beneficiaries on project leadership by teaching them gardening techniques and then teaching them sanitation techniques, either for the family or related to agriculture," he continued.
The harvests of all the beneficiaries will be sold in the markets through a mechanism that means they will have no further outlay.