No Dream Impossible in Idlib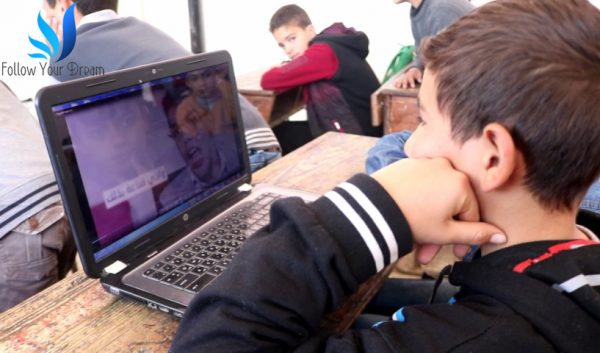 During one of the campaigns activities
"IT Activity for Children in Idlib as part of the "Follow Your Dream" campaign"
Children in the village of Termanin in the northern Idlib Rif took part in an activity designed to encourage them to pursue their dreams despite the conditions imposed by war.
The Follow Your Dream campaign organises art activities to help youngsters express their thoughts, hopes and wishes.
A previous project revealed wide disparities between how the community's children viewed their future. Some painted pictures of their dreams to become engineers or doctors, while others could see nothing but violence ahead of them and drew images of soldiers and warfare.
In response, Follow Your Dream decided to expose the children to a positive role model to motivate them.
As part of the No Dream is Impossible activity, the team screened a short film by AJ+ about al-Motassem-billah Abou Mahfouz, a young Jordanian who has suffered from cerebral palsy since birth.
His disability has not held him back from pursuing a successful writing career. The film showed how he uses his nose to type, with his first book, titled Insightful Eyes requiring around 250,000 "nose clicks" on an iPad to be completed.
The students saw how this young man persevered despite his health problems, and how he was able to change how society viewed him as a person with disabilities. The children were clearly inspired, and said that they were now more confident that they would achieve their dreams.