Children Painting Dreams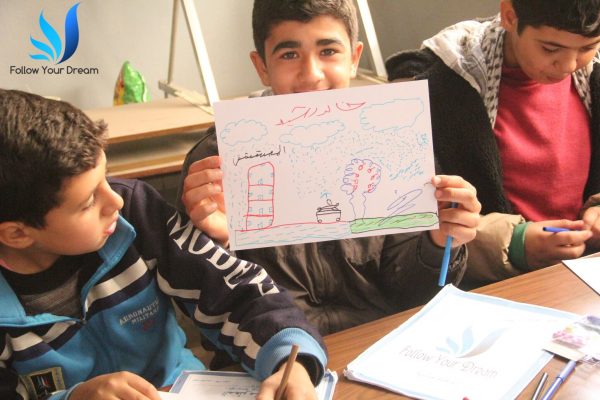 "There were children who drew warplanes bombing buildings, coloring the victims red, while others drew beautiful scenes of flowers and trees more suitable for their age."
Children naturally try to adapt and cope when they witness violence. In the besieged Syrian province of Idlib, some have found a way to express their feelings and aspirations through art as part of the Colour Your Dream project.
Organised by the Follow Your Dream advocacy campaign, the scheme aims to give them the opportunity to have fun while challenging themselves by expressing their ideas for the future.
The children were delighted to receive colouring pens. But when asked to draw their dreams, nearly half produced pictures featuring war, featuring aircraft, tanks, missiles and dead bodies.
The last seven years of conflict have altered the way Syrian children see the world. The contents of their art is different from that of children living in more normal circumstances.
Many of them drew buildings and houses and said they dreamt of becoming architects and engineers as a reaction to the destruction they had seen in their hometowns. One drew the victims of a bombing, and wrote that he wanted to become a doctor to treat the wounded.
There were children who drew warplanes bombing buildings, colouring the victims red, while others drew beautiful scenes of flowers and trees more suitable for their age.
Some children found it difficult to draw and express their feelings at all, a possible indication of troubled relationships with their parents. A distant connection with parents in general and mothers in particular can make it difficult for children to express themselves. In a warzone, tensions rise and unhealthy relationships form between parents and children.
This is where the Follow Your Dream campaign steps in, working with these children and helping them break down the barrier of silence by expressing their ideas and thoughts.
Through this campaign, we were able to see how children draw what is in their imagination. The parents' role in setting an example for their children is crucial. Children dreaming of becoming doctors or engineers, or any other profession they depict in their drawings, have the most positive energy and with whom communication is easiest.
Children who dream of becoming fighters constitute the most challenging group. They imagine themselves as heroes who will avenge the victims of the war. Identifying their fears and concerns is essential to helping them. Are these children actually aware of how dangerous this kind of dream is? Or are they just investing their energy in these ideas to try to draw their parents' attention?
Drawing is a means of self-expression. When a child draws, it serves as a tool by which he or she can interact with an outside world that may not be paying attention to them. Through art, children can transition from drawing about fear, airstrikes and dismembered bodies to pictures of safer and more beautiful spaces, filled with trees and intact houses, even if these places are only imaginary.
After analysing all the drawings using concepts from social psychology, our campaign worked on developing methods to address the social issues we face in this difficult and sensitive region.
The best drawings were exhibited at the end of the activity as good examples for children and to serve as an illustration of hope. It is important to demonstrate to the children that a different life of freedom and safety is possible.
Fayez Samra is the coordinator of the Follow Your Dream advocacy campaign, funded by IWPR.