Too Late to Get Married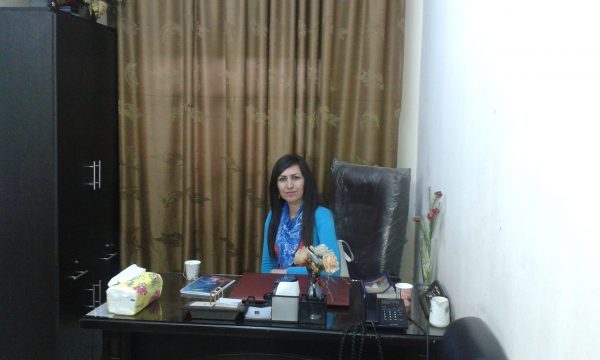 "The whole world changed, but our tradition of marrying the eldest daughter in the family first did not, "
Hana Said Ibrahim, 43, still dreams of getting married. The business and economics graduate who works as a senior government official in Qamishli city, said that her father had always refused to bypass tradition to allow her to wed before her older sister.
"The whole world changed, but our tradition of marrying the eldest daughter in the family first did not," Hana said, explaining that her sister had only finished elementary school and therefore had slim chances of getting married.
Although her sister had asked their father to ignore this custom, he had always refused, and Hana's dreams of a romantic proposal and a white wedding dress had come to nothing.
A Kurdish diamond trader who lived in Russia had once proposed to Hana through a cousin in Moscow. However, matchmakers had intervened to persuade him to marry a young orphan.
"After she arrived in Turkey on her way to Russia, the girl saw people of her own generation and changed her mind about marrying the older trader," said Hana, laughing at the irony of her fate.
Hana is willing to make major compromises to achieve her dream. She said she was ready to marry a man who already had a wife, without any financial or other conditions.
Hana still looks after her ailing father, and said that she continued to respect him.
"I never held a grudge against my father, and I thank God for everything I have achieved and I have great faith in God, I only wish to marry and become a mother," she said, asking, "Is too late for me?"
In conservative sections of Syrian society, women who miss out on the opportunity of marriage when they are young are left with few options. Either they remain unwed and dependent on family, or they need to be prepared to marry a widower or become a second wife.
Nisreen Hussein, an agriculture graduate who works in a governmental institution in al-Hasaka, said that she was ready to compromise in her choice of a future husband.
She said that in the past, her expectations had been far too high, "exceeding those of a princess".
She had rejected one rich and handsome suitor because, although he was from a respected family, he did not have Syrian citizen citizenship "and since the father was a foreigner, his children would inherit the same status and I did not want to cause this hardship for my children".
Nisreen now lives in one room with two of her sisters and said she was trying to find any marriage opportunity, even if she was to be a second wife, as long as she could have her own home.
Shams Youssef, 27, is concerned about her future but still reluctant to accept a match who doesn't meet her standards. She said that "perhaps my heart is a bit difficult".
The last suitor she refused was her cousin.
"I do not think anyone else would have refused his proposal as he has a degree, is doing well financially and has an important social, cultural and political position in our community," she said. "I think I will regret refusing to marry him, but he could not convince me to love him. He has all the qualities that make him irresistible to other women and is now getting ready to marry another woman. As for me, I think I will end up a spinster or married to a divorced, or widowed man."
Ammar Moussa, the imam of Omar bin al-Khattab, said that there was a divine wisdom to the practice of a man taking multiple wives.
"Abrahamic religions allow polygamy and justify that through different reasons related to increasing the number of children, or the wish of a man to marry again, provided he is fair. The number of wives is not an issue, as the children have one father," he said.
However, Orshina Hanna, an activist with the Assyrian church, said that polygamy was forbidden in the Christian faith.
"The church is strictly against polygamy, no matter the circumstances, including if the wife cannot bear children," she said.
Psychologist Rojeen Shaweesh said that conservative traditions meant that women over the age of 25 were not seen as suitable marriage material.
She argued that this prejudice was down to a prevailing belief that younger women were more fertile than older women.
"This is what drives most young men in al-Hasaka to consider marrying girls in their [early] twenties rather than marrying those over the age of 25, even if science proved that women can have children until the age of 40," she said.
Shaweesh said that women who were prepared to become second or third wives had very low levels of self-esteem.
"They link their capabilities to the presence of a husband, to the extent that they consider marriage to be a woman's main identity," she continued, adding that attitudes were changing and that there are now more options available to women who wanted to pursue a career instead.