Sold by Islamic State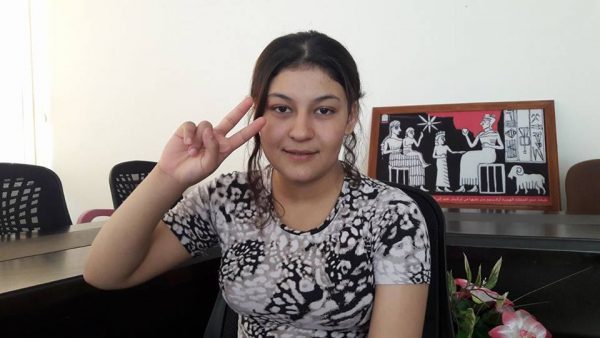 Raghda after being released from IS captivity. Photo: Lamar Arkandi
Raghda was 11 years old when she was kidnapped by Islamic State (IS) fighters on August 3, 2014. Over the next three years, her captors would sell her 16 times as she endured daily rape and beatings.
When IS gunmen first entered her village of Tal Qasab in Nineveh governorate, southeast of Sinjar city, they told Yazidi residents that they would not be harmed if they converted to Islam.
It soon became clear that this was a lie. Raghda was kidnapped along with family members including her brother Assi, her sister Khajah and her six children and her eldest brother's wife Saliha, who had her young baby with her.
"The IS fighters promised that they wouldn't insult us or take us away from each other if we become Muslim," she said. "[But] as soon as we became Muslims, they took the boys, including my brother Assi, to their camps for weapons training, and offered us, the girls, as sacrifices for their fighters of all nationalities."
The women and girls were transported along with hundreds of other abductees from Tal Afar to Mosul, and from there to the IS stronghold in the Syrian city of Raqqa. On arrival, they were taken to the municipality headquarters to await their fate and Raghda said that her sister was the first to be sold, along with her six children.
"My brother's wife claimed I was her daughter, hoping we coul stay together," she continued, adding that they were then sold to an Iraqi man from Mosul, Abu al-Khattab, for 15,000 US dollars.
"He was cruel and heartless and had no mercy. He let my nephew die of hunger: he didn't bring him milk so he died three days after we were bought."
After the international coalition began bombing IS targets in both Syria and Iraq, the militant group began moving their captives from place to place.
Raghda went on to be shifted between areas under IS control, from Manbij to Mayadeen, to Aleppo, from Bukamal to Deir ez-Zor and then the Hama countryside.
Raghda, now safely in Qamishli, said that the last man who held her captive was a Tunisian called Suhaib.
Imprisoned along with nine other Yezidi women, she recounted how they were mistreated and abused, including one incident in which one of them was beaten til she passed out.
"The lady was screaming extremely loudly and Suhaib dragged her by her hair and beat her with a whip," Raghda said. "He took off her clothes, and in front of her children, he and three of his comrades beat her with the whip until she fainted and stayed unconscious for several hours."
After two months behind held captive by Suhaib, Raghda was told she was about to be sold again to man called Danaye.
But Danaye was in fact a Yazidi man, himself from Sinjar. A month after the militants overran his hometown, he had set up a network to rescue IS abductees inside Syria. He said that in the years since, 19 members of the team had been killed as they worked to free the captives.
"We lost many of our friends in the network, some of them in IS ambushes, some as they were being pursued in IS-controlled areas, others were killed by mines planted by IS around its strongholds," he recalled.
But for Raghda, her rescue was nothing short of miraculous.
"I collapsed and cried bitterly when my rapist told me that he was going to sell me to a man named Abu Shujaa Danaye," Raghda said. "I didn't think he was the person who was going to risk his life to liberate me."