Helping the Forgotten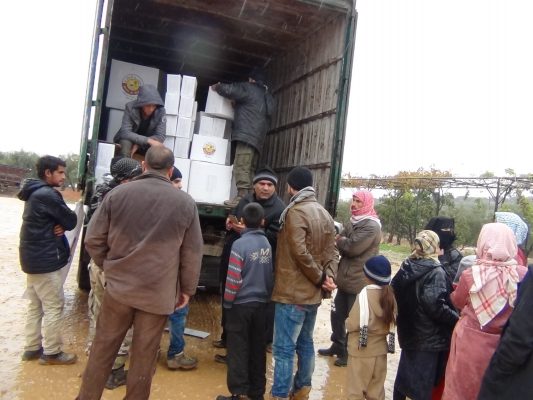 The Saed team distribute aid baskets provided by the Qatari winter campaign at the al-Karama camps. Photo by: Ihab al-Bakkur
"A charity set up by IDPs aims to help society's most vulnerable people."
Hind, a widowed mother-of-three who lives in the al-Karama camp, could hardly believe her eyes when she finally received a heater to warm her cold tent.
"I can't believe it, I have a fireplace!" she kept repeating to her neighbour, Um Muhammed.
After two years without heating, Hind and her children could finally keep warm, thanks to the Saed charity fund, an organisation set up by a group of teachers and internally displaced people (IDPs).
"Two years ago we didn't have a heater, not even electricity until these teachers came and helped my children and I through the Saed fund," Hind said. "I am grateful to them."
One of Saed's founders, Ibrahim is a teacher who has himself been living in al-Karama for the last three years. He and four other teachers decided to take the initiative to help their fellow IDPs.
"After all that time in the camps, I saw cases of need that I could barely stand to see; many of them didn't receive any help from anyone and had been neglected by the humanitarian organisations. Therefore, four of my fellow teachers  and myself decided a month ago to create a fund to help those who had no one else to help them," he said.
"We started telling our friends and relatives about the fund, in order to raise money. Each person paid a sum of money to help the needy, estimated at about 1,000 Syrian pounds (five US dollars) in order for everyone to be able to afford it."
The idea proved very popular, explained Munir Al-Jadua, a fellow founder.
"There are hundreds of families in the camps who don't have anyone to help them, so we carried out a two-day study in al-Karama to identify the needs and then collected a good sum of money and allocated each family a part of it," he said.
l-Jadua said that they arranged to work with the owners of local trusted shops and pharmacies. The project grew from there.
In its first month of operations, the Saed fund managed to reach 150 families, mostly providing them with fuel, medicine and baby milk.
"Some donors and relief campaigns contacted us and asked to network with us," Al-Jadua continued.
It is unclear how many internally displaced people (IDPs) are living in the area. According to a report published in July 2014 by the Violations Documentation Centre in Syria, 68,000 people, mostly from the  Idlib and Hama countryside, were living in around  64 camps in the region. The number has certainly increased since then.
Malaz Abu Arab is an organiser with a Qatari winter campaign to help refugees and has been working with the Saed fund.
"The spirit of volunteerism doesn't exist as strongly as it did at the beginning of the revolution, but when we heard about the Saed fund and that it is based mainly on volunteering, we decided to collaborate with them in the distribution of some winter baskets, according to the needs assessment they carried out," he said.
"Although most of their volunteers don't have any previous experience in relief work, they managed to achieve a lot in a short space of time," he continued, adding that his Qatari charity planned to partner with the Saed fund for future initiatives.