A Better Shelter for the Displaced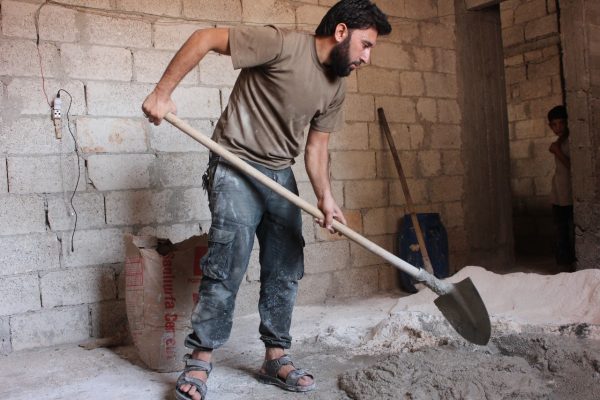 ""This project is increasingly important as it comes in times when the numbers of displaced people are increasing.""
A project in western Aleppo Rif has helped accommodate hundreds of families displaced from the north and south of the area.
The Shelter project has been particularly important at a time when the numbers of displaced people (IDPs) have been increasing.
Oubeida Dandoush, head of IDP affairs at the Syria for Relief and Development (SRD) NGO, said that around 5,000 people had fled the shelling in Aleppo city and other regions.
Tarek, 34, from the city of Raqqa, was one of them.
"I left with my wife and child fleeing bombardment and headed towards Western Aleppo Rif," he explained. "All I was thinking about at the time was finding shelter from the winter cold. I went to the local council, and after going through the necessary paperwork, I was given a small apartment."
"SRD, in cooperation with World Vision, launched the shelter project in January 2017," said Shelter project manager Talha al-Omar. "Initially, the project aimed to rehabilitate ten shelter centres in Ibeen Semaan, al-Jine, al-Atareb, Mazareh Oram al-Joz al-Kobra, and Mjebina."
"The shelter centres housed families in dire circumstances in damaged tents…the locations lacked all necessary amenities, chiefly sanitation, electricity and water, so we proceeded to rehabilitate buildings and provide the services needed," the 31-year old continued.
The beneficiaries are mostly homeless families, the elderly and people suffering from a disability which has prevented them from working.
One woman, 28-year-old Hanane, said she was happy to get an apartment having struggled to pay rent and support her children after her husband was killed by a shell.
Al-Omar explained how IDPs accessed the service by first registering with the local council.
"An SRD team is then deployed to follow up on the case and conducts field visits to the houses to assess damage and identify beneficiaries," he said.
Abdel Sater Madino, head of the local council in al-Hawta village, said, "SRD rehabilitated five shelter centres in the village of Mjebina, under the jurisdiction of al-Hawta village, where several displaced families from northern and southern Aleppo Rif lived, and rehabilitated 50 apartments in the same village, in addition to equipping them with sanitation, water tanks, windows and doors."
"We at the local council, on our behalf and on the behalf of the displaced, thank SRD for this project and we wish them every success so that they can continue to support displaced families," the 28-year-old concluded.