Achieve Dreams in Kafr Nabl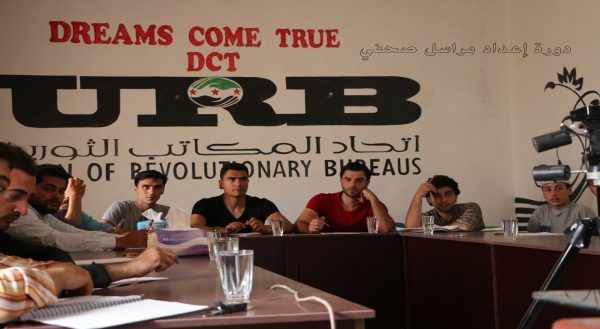 The reporter's training course in the Dreams Come True centre - From the centre's facebook page.
A training centre in Kafr Nabl is offering a range of courses to young people in an attempt to persuade them to stay in Syria rather than seek opportunities across the border in Turkey.
The Dreams Come True centre, established by the Union of Revolutionary Bureaus (URB) in the southern Idlib countryside, provides a much-needed local educational resource.
"The main objective of the centre is to stop [youngsters] travelling to Turkey or even to other areas inside Syria, since previously the young people of Kafr Nabl and its surrounding area were having to travel long distances to study," said its director, Ahmed Sowaid. "Today, students are within walking distance of the training centre."
He continued, "Our centre provides free courses in journalism on a regular basis, as well as courses in psychological support, English language and other subjects."
Sowaid said that although facilities were sparse, staff made the most of what they had.
"The centre has two floors, each of which can accommodate up to 25 people," he explained. "Each hall is equipped with a display panel, a board, lighting and a computer, as well as heating, cooling and internet. We are working with very limited means, but we always seek to benefit young people who want to learn and to reinforce their skills."
Lecturers are either trained professionals with at least five years of experience or previous graduates of Dreams Come True courses.
Ataba al-Kilani teachers a course on Photoshop and montage.
"I work with my colleague Siraj as montage trainers and we have developed a curriculum in which we tried to cover as much as possible to cover basic montage subjects," he said. "Therefore, trainees can learn all aspects of montage skills to progress in this field. They may be encouraged to try their luck in the film industry in the future."
"I joined the course because I needed it in my job in the media," said Ahmed, 28, a former student of al-Kilani. "Dreams Come True didn't only save us the burden of travelling but it also provided us with trainers who have expertise and professionalism."
Although most of the courses offered at Dreams Come True focus on media skills, others have wider social uses.
Nagham, a 21-year-old teacher, said she took a psychosocial support course so that she could better meet her pupils' needs.
"There is an urgent need to be able to help schoolchildren psychologically given the current conditions of war," she said. So, as I am a teacher in a school in the Idlib countryside, I took a five-day psychological support course in the Dreams Come True centre."
The course had been valuable, she continued.
"I learned new information about how to deal with students in the right way, psychologically and educationally, and I gained skills about simple games that I can offer them. I needed the courses and I have achieved what I wanted. I hope to continue the training so that I can go on learning and gaining new skills."
Other students agreed that studying had given them new hope in troubled times.
"We make an effort to develop ourselves, because the war requires us to be strong and capable, otherwise we will fail – and failure is the last thing we want to think about," said one trainee on the Photoshop course, adding, "We will succeed and achieve our dream."