A Story of Loss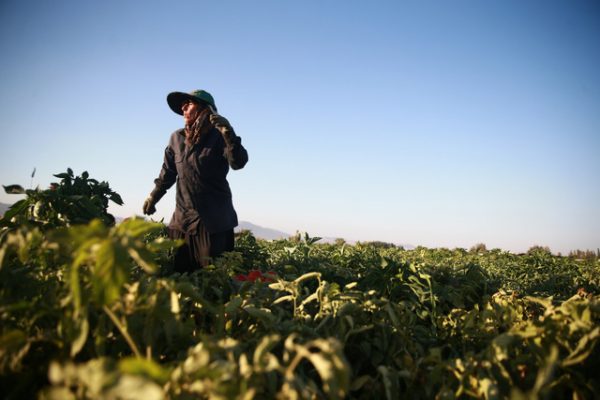 A woman harvesting tomatoes in an agricultural project near Hamouriah city in Eastern Ghouta in the summer of 2017.
Marwa's nightmare began when Islamic State (IS) took over her hometown. This marked the beginning of her and her family's destruction. IS initially portrayed themselves as virtuous and righteous. As they tightened their control, however, their true face was revealed.
IS closed schools, markets and shops. They enforced curfews, separated families, forcibly recruited child soldiers and made living conditions very harsh.
Marwa's husband was a fighter with the Free Syrian Army and had left her behind with their 14-year-old twin boys behind. She had had no news about her husband ever since he had gone to fight. The children's life with their mother quickly came to an end – they were forced to join IS training camps so that they could serve as future fighters.
Marwa was furious. She demanded the return of her children but as a result was sentenced to 15 days imprisonment.
When she was released from jail, she was forced to marry another man. According to IS her husband was an apostate and as per Islamic law she must be divorced and made to a Muslim man.
Her new husband beat, cursed, and scolded her if she asked to see her twin boys. He forced her to never even mention them. He would have forbidden her from even thinking about them if he could, but that was impossible as she would never forget her precious ones.
After the 2016 Euphrates Shield operation in northern Syria, huge groups of the Free Army took over our town and IS left the area. Marwa went with husband to al-Raqqa city against her will. She felt defeated, humiliated and disappointed as it now seemed impossible for her ever to be reunited with her family.
After a short period, she discovered that she was pregnant.
Marwa was very distressed about her pregnancy and was not upset when her husband forced her to have an abortion. The baby would have been a constant reminder of her marriage.
Airstrikes intensified in Al-Raqqa and the situation quickly deteriorated. Her new husband was killed in one of the raids.
Marwa had mixed feelings regarding his death; her sense of relief and happiness was mixed with turmoil and anxiety regarding her unknown future. She felt deep loneliness in this strange city of tragedy where she knew no-one.
People began fleeing the airstrikes and Marwa fled too, leaving behind all the hurtful memories of her husband. She had nowhere to go and simply joined other people fleeing the area.
She eventually met a family from an area near where she used to live and continued her tough journey with them until she reached her hometown. Worn-out and emotional, she searched the streets and houses for any sign or news about her husband and children.
She found out that her husband had died in battle and her children had been killed in an airstrike. They had all left this earth without saying goodbye.
Loss causes so much pain. You can never get used to such loss no matter how hard you try. What keeps us going is our belief that we will meet our loved ones again one day, if not on this earth then in heaven.
Marwa's strong will and faith lit her path and she began putting the pieces of her life back together. She embarked on a journey of helping others, after her own journey of loss. She now spends her time educating children and lighting the path for future generations.
Fatima Hajj Moussa, 25, is from Idlib and is a university student at the Media Institute.