A Brush With Death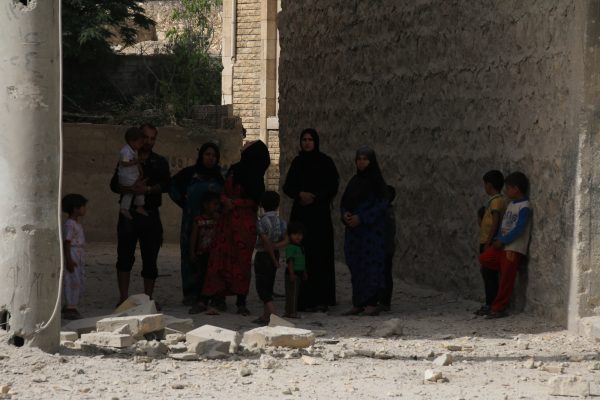 A family that lost its home in a regime bombing of the Dahra Awad neighbourhood, east of Aleppo. Photo by: Mujahid Abu al-Jud
My husband got a job with the government electricity company on January 27, 2011. He received a fairly low salary, but we managed. Then on September 15, less than nine months later, he was fired because of his support for the revolution.
My husband was one of the earliest backers of the revolution. He had hated the regime for a long time, because of the massacre in Hama in 1980, the year of his birth. His father had told him how he had been imprisoned, beaten and humiliated as part of the regime's actions.
So my husband began to volunteer for the local council. He still worked maintaining electricity supplies, but without drawing a salary.
I used to tell him to ask the people he helped for some payment, but he felt unable to.
"I swear that there are people whom I visit to fix their electricity and I see that they are much poorer than us," he told me. "How can I ask them for money?"
After a while, the local council offered my husband a job extending and maintain high tension lines. He was very conscious that the department responsible had very little experience in this field. He used to tell me that they did not even understand how to disconnect or reconnect the supply. Fearing an accident, he became extra cautious.
I was terrified for my husband when he left for work each morning and I prayed to God to protect him and our children.
Then one day, the office called my husband and told him there was an electricity failure he had to repair. He asked them to disconnect the electricity supply, and was assured that this had been done. My husband went out to start work, assuming that there was no power in the lines.
He got to the site and climbed up the seven metre high wooden electricity pole.
When he reached the top, he positioned himself in front of the wires and secured himself with the harness he was wearing. Then he reached for the wires. But to his surprise, he received a massive electricity shock.
My husband began to scream loudly, calling on God to save him.
People gathered around watching what was happening, but no one could do anything because he was up so high on the pole. One person went to the electricity department, which was nearby, and asked them to disconnect the supply.
My husband was still struggling, begging for help.
When the electricity was cut, he managed to get down the pole safely. But as soon as he got to the ground, he fainted. The people poured water on him until he came to.
My children and I were at home with no idea what had happened. When a car drew up outside our house and some young men carried my husband out, I thought he was dead.
Our children began to cry and I couldn't keep myself together and started to sob too.
But when the men approached, I saw my husband was still alive.
I immediately asked him,"What's wrong with you? Why are they carrying you?".
With tears in his eyes, he replied, "You should thank God I'm alive."
Later, after he had rested a little and the men who brought him had left, he told me what had happened.
"I came face to face with death on that pole," he said. "Electricity was inside my brain and I felt it in my head. I felt that I was being killed by the electricity, but at the sametime it was bringing me back to life."
I thank God that this nightmare is over. But when my husband wanted to investigate who had been responsible for what happened, many people advised me not to do so. They said that there would be no benefit to complaining – that no one would admit to the mistake that almost got him killed.
All that happened afterwards was that my husband decided not to go back to work with the council.
He lost his job because of his support for the revolution and almost lost his life because of the some people's carelessness. The result of both cases is that we also lost our livelihood.
It is hard to imagine losing a loved one, especially a husband or father. This experience was one of the hardest moments in our lives.
Amina al-Kashto is a 32-year-old mother-of-four from the village of Maar Tahroma in the southern Idlib countryside.