YouTube Video shows abuse in Syrian school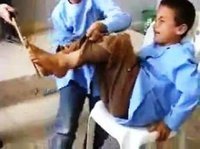 SMN No. 9, September 14, 2010
With the rise of video-sharing and social media sites such as YouTube and Facebook, it might be more difficult today to hide abuses happening behind closed doors in Syria. The latest scandal follows the posting of a short video showing two schoolteachers using physical violence against their students.
The identity of the instructors and the school where the incident happened are still unknown but the images have drawn wide condemnation among Syrian netizens who asked for those responsible for the abuses to be questioned and punished.
A Facebook group called, "Help us identify the two teachers that have abused our kids," has attracted more than 1,200 members. The organisers said that teaching using violence has to be stopped. The video showed a teacher beating a child on the soles of his feet and then hitting the hands of a little girl with a wooden stick. In the background, other pupils wearing official school uniforms were shown crying.
Comments on the group mostly rejected these practices. One commentator asked sarcastically in reference to a notorious case of torture of Iraqi prisoners by US soldiers, "Do they think they are in the Abu Ghraib prison?" Some of the group members said that the teachers were probably in a rural school. Others said they were shocked to see that these practices, used in schools in the past, were still happening.