Travelling to Turkey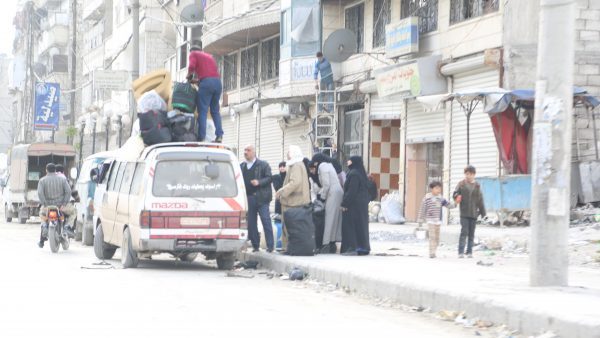 A family displaced due to the bombing campaign on Aleppo, al-Firdaous neighbourhood. Photo by : Hussam Kuifatia
After suffering through conflict, fear, homelessness and displacement, we finally decided to leave Syria and seek refuge in Turkey. I had always tried to delay thinking about this prospect, hoped that I would stay longer within my homeland, breathing its air and absorbing its fragrance. But the trip was duly scheduled for August 13, 2012.
I remember that morning as if it was yesterday. It was our last morning and the pain was unforgettable.
After we left our home in Sahel al-Ghab in the Hama countryside, we headed for Maar Tahroma village in Idlib. Me, my husband and our daughter were travelling with some of my relatives. It was about seven in the morning.
Fear was our only passport. We were well aware that we were sharing the fate of hundreds and thousands of other frightened people. I looked up at the sky, my eyes filled with tears and I wondered whether I would survive.
We got in the bus which was to take us to the border town of Atme. We travelled via a scary mountain pass, guided by a young man who drove ahead on a motorcycle to ensure we kept to roads that were far from the spies of the regime.
After every two or three villages, another man would replace our guide. We would drive a short distance and then he would ask us to stop so he could coordinate with other guides via his mobile phone. He would then ask us to wait for a quarter or half an hour because an army patrol had been sighted. Sometimes we would drive for 20 minutes only to return again because the road was no longer considered to be safe.
A journey that took ten minutes before the war began took us an hour and a half because of the regime roadblocks.
We eventually arrived at Furaykah village, where the regime had a checkpoint and patrolled every hour.
There, we had to walk through on foot. Then the bus stopped near the main street, although we were warned that waiting there was dangerous, because we had to meet our new guide.
This position overlooked the army checkpoint and we were told soldiers might start firing if they thought they saw something suspicious. So we got out and hid in the neighbouring houses to not draw any further attention to ourselves. Our new guide was about ten minutes late, but our fear made it feel more like ten hours.
Finally the man came and we were so relieved to be leaving this frightening place. He got on the bus and we continued our trip towards Atme, a place I had never heard of before. I was sitting near the window, looking out at the road.
My daughter was asleep in my arms and I wished that she would continue sleeping as long as possible, to spare her from the long journey. Every five minutes she had been asking me, "Mum,, when will we get there?"
I had been told that Turkey was very close, like taking a trip from our village to Hama. That was all very well, but the trip was both emotionally and physically tiring. It took us about eight hours to travel to the Turkish border. I felt like I was travelling to another planet.
We arrived at Atme at around 4:30 pm. It was very hot. We waited there until the evening so that the Turkish border guards wouldn't see us. After three or four hours, we got ready to enter Turkey.
It was frightening. We crossed the border on foot, very quietly and without any lights so that nobody would see us. It took us about a quarter of an hour to get through. It was just as frightening as our eight-hour bus journey but thankfully it ended safely without us being shot at by border guards.
Five years have passed and I still remember the details of that trip as if it was yesterday. I haven't visited Syria since I entered Turkey, not even once, because of what I suffered there. Just the thought of going back scares me, it makes me remember many details I want to forget. After all these years, I am almost certain that unfortunately I won't return to my country and that I will spend my life as a refugee.
Reem Said, 37, is a housewife and has one child. She is a refugee in Turkey.