My Poor Uncle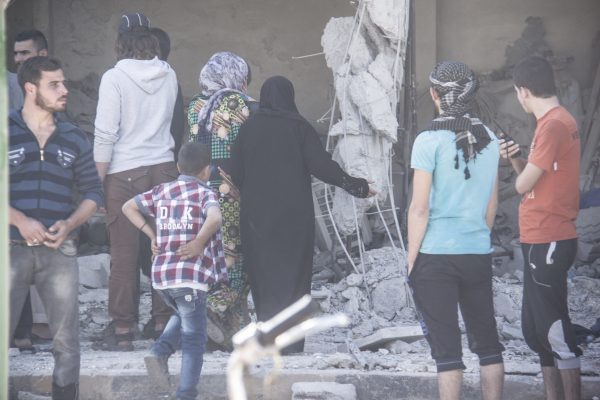 Women inspect a home targeted by the regime. Photo: IWPR
It was the morning of December 8, 2012. As I did every day, I prepared breakfast before tackling the other household chores with my sisters. After that, I helped my mother wash the mound of dirty clothes that had accumulated because of the lack of electricity.
And as usual, I checked for warplanes.
Up on the roof of the house I could see one flying over the nearby towns. It carried out a raid on the village of Deir Sunbul and another on a village in Jabal Zawiya.
I called my father and sisters to watch the aftermath of the bombing. In seconds, a whole village was obscured by smoke.
We stayed on the roof, watching, until lunchtime. But when we were inside seated for the meal, we once again heard the sound of a plane.
Maybe the same plane that had bombed Deir Sunbul had returned to target us?
In the kitchen, my mother began to scream, "Where are you? The plane is back!"
We all screamed with fear until the sound disappeared. Our screams were then followed by a big explosion that broke all the glass in our windows.
My sister ran towards my mother; we thought something bad had happened to her. But thankfully she was unhurt.
We went up to the roof again to see dust filling the neighbourhood like a volcano had erupted. We thought the mosque near our house had been struck.
Suddenly, we looked up to the sky to see the plane still flying overhead.
"Hurry to the shelter to hide!" shouted my father.
We all headed to the shelter close to our house. Within minutes of our arrival, we heard another explosion, followed a moment later by the sound of screaming from our beloved uncle's house.
My uncle was disabled; he had been wounded in the October 1973 war. The injury he sustained in his left leg meant he could barely walk, and so he could only work in his small shop right next to his home. My uncle supported not only his own family, but that of his son who had lost his job when he defected from the regime.
My mother came out of the shelter to see my cousin screaming,"My father was injured, he lost a foot!"
My mother returned to tell us that the plane had targeted my uncle's shop. We all rushed out to check on the uncle we love so much. We went to his house, but couldn't find him. He had already been rescued and taken away.
The street was full of people helping the injured and taking them to hospital. We waited for any news about my uncle, and I tried to console his daughters.
Someone came to tell us that my uncle was still alive, but his condition was very serious. His right leg had been amputated. When my grandmother heard the news, she fainted.
After we splashed her face with water, she regained consciousness and said, "Take me to see my son."
A relative came to take her to the hospital, and we stayed on the side of the road waiting for more news.
A car carrying a dead man came. We thought it might be my uncle and rushed towards the car. It turned out to be a martyr from a neighbouring town who had fled bombing there and moved into the house next to my uncle's shop. He fled his town to die in ours; there are no safe places in Syria anymore.
A few minutes later, I heard people shouting.
"The plane is back in the sky, get out of the street," they screamed, running like crazy people.
What does one do in this situation? Do you keep looking for survivors under the rubble, or do you run for your own life?
We had to go back to the shelter.
An hour later, my cousin returned. He had my uncle's amputated right leg with him, and he had brought it back to bury it. My uncle would now be completely disabled.
In Syria, death is slow and amid life, you are slowly buried.
Inas Mohammed is a 23-year-old mother-of-two. Forced to abandon her university studies because of the security conditions in Damascus, she now works as an editor in Radio Fresh.