Full-Face Veil Ban Sparks Online Debate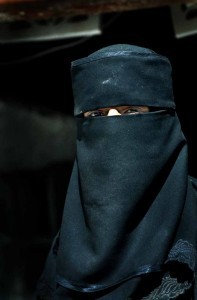 SMN No. 5, July 6, 2010
A recent government decision to sack 1200 school teachers for wearing a traditional veil that covers the face has provoked a heated online debate in Syria.
The Niqab obstructs the teaching process because it prevents teachers from using facial expressions to convey information, said the Syrian minister of education, Ali Saad, in a report published by the Syrian pro-government daily Al-Watan. The minister, who ordered the sacking of the teachers at the beginning of June, stressed the secular character of education in Syria.
The Niqab is a veil that covers the face and is worn in more traditional Muslim countries, mainly in the Persian Gulf. There is no consensus in the Muslim world whether women are required by Islamic laws to wear this type of veil or not.
The minister's decision was met with a wide spectrum of reactions on Facebook and Syrian online forums. One commentator said on Facebook that he was opposed to the decision because it infringed  personal freedoms even though, he added, that he was against the veil. He said that such bans could drive people to become more extreme.
Another netizen hailed the move saying that all forms of fundamentalism should be rejected. He said there should be legislation to end religious education and the separation of sexes at some schools.
One blogger, however,  railed against the sacking  decision, describing it as a "dictatorial" move. The blogger of Al-Marfaa, or the port, said that such a move did not respect the nature and fabric of conservative social groups.