Fighting Over An Unexploded Missile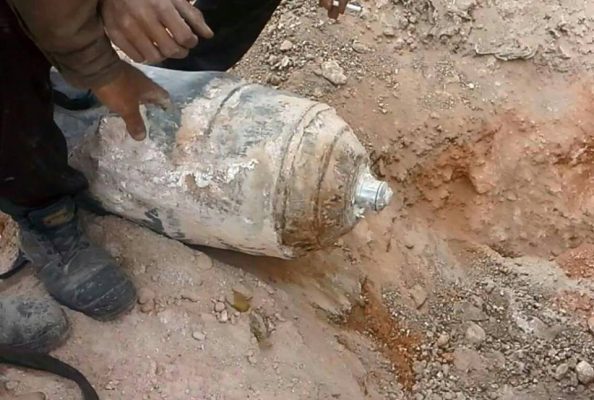 An unexploded missile becomes a valuable resource. Photo by : Yazan al-Zaydan
On January 12, 2017, the town of Dar al-Kabira near Kafr Nabel was targeted in a regime airstrike.
Abu Mohammed, a resident of the nearby camp for internally displaced people [IDPs] explained what happened next.
"The warplane dropped a number of missiles on agricultural land by the camp. Some of them hit people, but one of the missiles didn't explode, possibly due to moisture or a defect in the detonator."
He explained that Jabal al-Zawiyeh's bomb disposal team quickly arrived on the scene along with ambulances sent to treat the wounded.
"But a group of men from the camp prevented the committee from taking the missile after it had been defused," Abu Mohammed continued.  
Camp resident Abu Yusuf was one of those who stopped the team from taking the remnants of the missile.
"The committee doesn't have the right to take the missile," he said. "The missile landed in our land and therefore it is our right to keep it. We have priority when it comes to taking and selling the missile."
Amid the ongoing conflict in Syria, unexploded ordnance has become a precious resource for local people who can sell the constituent parts for high prices. This often leads to disputes among local people as to who has the right to benefit from the proceeds.
"We sell the gunpowder by the kilo, and a kilo fetches about ten dollars," Abu Yusuf explained. "We also sell the rest of the missile for scrap metal. The larger the area that remains intact, the higher the price of the missile. The average weight of one missile is 500 kg."
A camp resident, who asked not to be identified, claimed that the committee took the missiles to sell themselves.
Yazan al-Zaydan, a member of the civil defence team, said that the remains of such thermobaric missiles were usually sold on to rebel factions, particularly to mine and hand grenade manufacturers.
In Dar al-Kabira, there has been friction between townspeople and residents of the adjoining IDP camp, established two years ago.
Abu Imad, who lives in the town, told Syria Stories, "The proceeds from the missile must be divided equally between us, because whoever says that the missile landed in his land shouldn't forget that this land belongs to the town and that [the displaced people]  just came here and set up tents."
Abu Basil, a local leader, said, "We must complain to the security forces of the [militant group] Jahbat Fatah al-Sham, so that this dispute, which happens every time, can be solved."
The detritus of war has long been a resource for Syrians living through the conflict. Children collect shrapnel and rocket residue to sell as recyclable metals, while canny entrepreneurs have even found a way to convert the remnants of barrel bombs into fans for generating electricity.
"We used to pray for God to make the warplanes go away," said Umm Abed al-Rahman, the wife of a man who owns land in Dar al-Kabira near where the missile landed. "Now we hope that an unexploded missile falls on our land so we can sell it."