Idlib Residents Complain of Crime Surge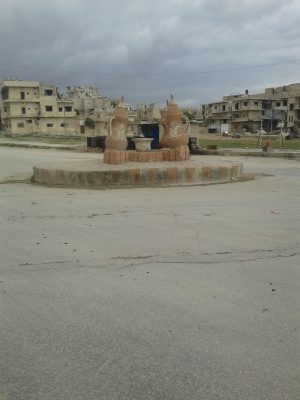 Al-Dala square in Maarrat al-Nu'man city where killing and kidnapping are frequent . Photo by : Dareen Hassan
Residents of rural Idlib say they are experiencing a wave of robbery and kidnappings, with the military factions who control the area unable to combat the crime surge.
There have been numerous reports of criminal gangs targeting the local population, with some warning that the regime was purposefully sowing chaos in order to destabilise liberated areas.
Other residents, however, argue that the security vacuum has come about as a result of the rivalry between the various factions controlling the area and their inability to coordinate.
For local people, the impact has been devastating. Abu Ahmed, a 39-year-old from Maarrat al-Nu'man, described how his son had been snatched and then held to ransom.
"Three masked men kidnapped my little boy, Assaad, in broad daylight while he was playing in front of our house on the edge of Maarat al-Nu'man. After three days of constant searching in which I nearly had a nervous breakdown, I received a call from the kidnappers asking me for 10,000 US dollars. My financial condition didn't allow me to pay this large sum and after negotiating with them, they agreed to halve the amount. So I sold the only piece of land I have to save my son."
Abu al-Hassan, 37, a Jaish al-Fatah fighter, agreed that "abductions have recently spread".
"The gangs kidnapped seven children in Idlib and its countryside," he continued, while adding that "many attempts failed, including the attempted abduction of a 15-year-old girl in the town of Sarmada".
He said that the kidnapping gangs had become active after Idlib was completely liberated, theorising that this was part of a plan "aimed at destabilising and spreading fear and terror among people and hindering the protection of the revolutionary factions that control liberated areas".
Al-Hassan noted that the gangs had various strategies to capture their victims. These included staging a car accident in which a child is knocked down and a second vehicle – purportedly an ambulance – arrives to take the victim away. Another method is to cut the electricity supply at night and snatch anyone who comes outside to investigate. Some gangs simply drive around a neighbourhood until they spy a child on his or her own.
Kamal al-Sheikh Ahmed, 27, fled from the Aleppo countryside to Idlib's Jarjnaz village to escape the bombing. He described how his younger brother had narrowly escaped such a kidnapping attempt.
"On November 8, 2016, a gang in a white pickup truck tried to kidnap my brother, Mustafa, ten, as he was leaving the house to buy some basic necessities from a shop. But he shouted when he saw the kidnappers, which drew the attention of passers-by so the masked men fled with their car and he managed to escape."
Deaths from car bombs or random gun crime have also become commonplace.
"We found the bodies of six young men at the Maar Shurin checkpoint in Idlib village, killed by pistols with silencers after an armed attack by unidentified gunmen at the checkpoint," said Abu Rashid, 30, a member of the Sham Legion. "The crime occurred on the morning of November 24, 2016. The identity of the perpetrators has not been discovered and the motive remains unknown, despite investigation by the Legion's security committee."
Theft is also having an impact. Ahmed Al-Omar 's car was stolen from right outside his house in the village of Tell Mannas in rural Idlib.
"On December 20, 2016, I woke up in the morning and was shocked to discover that my car had disappeared from in front of my house," the 38-year-old said. "It was all I had and I was working on it to secure my livelihood to support my children. I don't have even a glimmer of hope of getting it back amid these security conditions."
Abu Adnan, 47, a member of Idlib's Free Police, said, "Idlib is a small but densely populated area because of the regime's forced displacement in various Syrian regions, not to mention the fragmentation of the factions and their preoccupation with the differences between them. Each faction protects its checkpoints and conduct its own affairs while neglecting security."
He adds, "There is no civilian council dedicated to security, although the police in Idlib is doing its part within its available means. The Free Police has taken several measures to reduce the security chaos, through intensifying patrols and so on. However, security control requires the participation of all parties, both civilian and military."
The crime wave has led to widespread resentment among residents, who called on all the armed factions to take action against the gangs responsible.
Local resident Abu Khalil, 51, said the security chaos had been exacerbated by a large number of checkpoints set up simply to extort money from travellers. An abundance of weapons among the general public had also led to rising crime.
"The biggest beneficiaries of these crimes are the regime, which has been working to sow dormant cells in the region to destabilise security and instigate inter-factional strife," he concluded.
However, Maarrat al-Nu'man local council member Akram al-Razzuq, 45, said that security checkpoints set up legitimately to check IDs and inspect cars were helping to reduce crime.
"They played a major role in reducing the chaos and the spread of gangs, with the hope that they will be able to improve the situation and restore security," he said, although he acknowledged that "whatever the reasons for the deterioration of the security situation in Idlib are, the crisis is getting worse and worse and citizens are the first victims".