Helping Syria's Most Vulnerable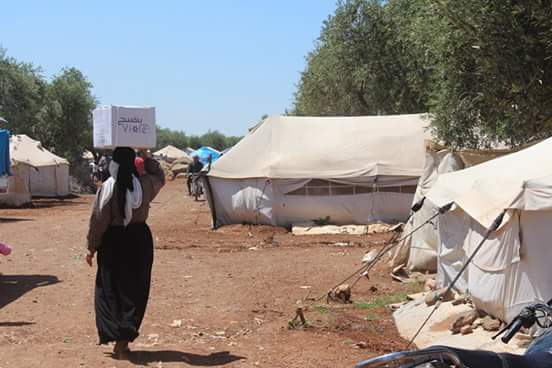 Hasna used to fear leaving the safety of her tent to take her children to the toilet at night. The streets of the Samidoon camp where the 25 year-old lives were unlit and attacks against women and children were common.
But she is no longer scared. Last April, the Violet organisation rolled out a programme of street lighting so residents could feel safe moving around after dark.
"Violet recently installed street lamps inside the camp and lit up the fences surrounding it to prevent theft and deter animals," she told Damascus Bureau.
"It also provided residents with food, blankets, clothes and kitchen utensils."
Samidoon is one of five camps in Idlib's countryside the Violet organisation has provided with services.
"Violet carried out the project in partnership with a Turkish organisation," said director Amr Treisi.
"Implementation took several months and culminated in the installation of 85 lamp posts in five camps: Samidoon, Aaidoon, Qadimoon, Al-Umma and Al-Sadaqa."
Treisi explained that Violet's programmes include camp administration and coordination, medical provision, food and livelihood, education and water supply. Each programme is managed by its own director and has its own staff.
Violet coordinates with local councils to ensure these projects reach out to those most in need and that aid is not wasted.
One of the beneficiaries of the food and livelihood programme is 50 year-old Ruqaya, who lost three of her children and her husband during the course of the war.
"The programme provides us with a monthly food basket. Although it is not enough, it helps me feed my children and grandchildren during these difficult times," Ruqaya said.
The food and livelihood programme delivers more than 40,000 food baskets to residents in Idlib, its countryside, and Jisr al-Shughur each month.
It also runs a project that offers loans to people to invest in nurturing and harvesting olive trees. Violet then helps them press the olives and produce oil to sell. It also buys some of the oil itself and distributes it to those in need.
One project beneficiary, Abu Ghaith, told Damascus Bureau that the organisation came to his aid when he needed it the most.
"My family and I were displaced and had no source of income," he said. "When Violet gave me a loan I managed to buy a small olive orchard. All nine members of my family and I worked together, picking and pressing the olives.
"We then sold the oil and made a good profit which eventually allowed us to repay the loan."
Another programme is the Cash for Work project that was launched in Idlib following its liberation in March, 2015.
Cash for Work was later extended to Ariha and Jisr al-Shugour, and according to Treisi, has found public service jobs for more than 340 people.
Employees have helped rebuild schools as well as rehabilitate the infrastructure of the general water company, and the municipality.
"We fixed the machinery and supplied them with whatever they needed to resume operation," Treisi said.
CARING FOR THE DISPLACED
Violet also provides medical services to displaced people and refugees in Syria and Turkey.
The organisation has set up a surgery in the Samidoon camp, maternity hospitals in Ariha and Jisr al-Shughur, and a medical centre in Al-Rayhaniya that includes dermatology, urology, neurology and physiotherapy units.
Violet's emergency response unit has also supported those displaced from Aleppo's northern countryside, providing aid to more than 5,000 families. This included tents, food, clothes and blankets.
One beneficiary, Umm Hussam, told Damascus Bureau that her family would most certainly have died of cold and hunger had it not been for Violet.
Treisi said that Violet stood out because of its unusually high number of staff and non-partisan nature.
"Our organisation consists of 350 permanent male and female employees, in addition to a large number of volunteers," he explained.
"We also have an information and complaints office which addresses and resolves the concerns of the general public.
"Furthermore, Violet rejects any conditional support from any parties," Treisi continued. "We are a non-profit, non-partisan organisation that partners with multiple international organisations, and is not affiliated with any military factions."
Razan al-Sayid is the pseudonym of a Damascus Bureau contributor living in Maarat al-Numan, Syria along with her three children. The 28-year-old holds a BA in education and works as a teacher.
Read the Arabic version of this article here