A Bitter Life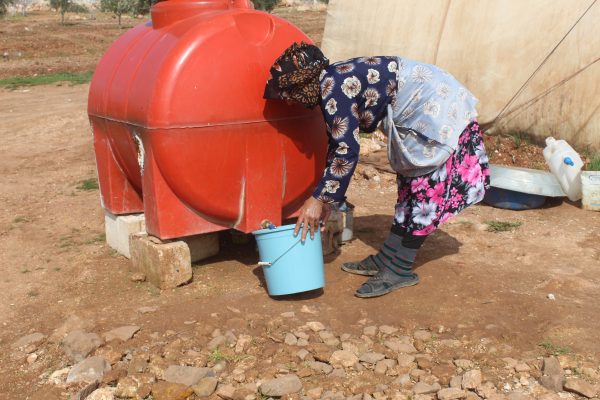 People store water in plastic tanks due to shortages and high prices currently being charged.
"in the seventh grade, I was forced to leave school as I was going through puberty. I wore a hijab and it became difficult for me to continue with my studies."
My first marriage was one of poverty, deprivation and injustice.
Since childhood, life had not been fair to me. Had I been given the opportunity to complete my studies, I would have become a teacher or earned a diploma. But in the seventh grade, I was forced to leave school as I was going through puberty. I wore a hijab and it became difficult for me to continue with my studies.
I didn't mind leaving school at the time, and was happy to grow up, get married and have take on all the responsibilities of a wife such as cleaning, washing, cooking and so forth.
I was 18 years old when the son of my father's friend asked for my hand and we got married. For one reason or another, we were always on the move – from Al-Sham, to Aleppo, to Deir al-Zour to Al-Raqqa. My husband was a harsh man who treated me badly.
I had four children. But when the eldest was 15, he was killed by an airstrike on Aleppo Road. Three of his cousins also died; his uncle was the only survivor out of five passangers who had been travelling in the car.
The news hit me hard and I had a nervous breakdown.
The first year following my son's death was very tough. I barely smiled and had many quarrels with my husband and his parents. A few months later, my husband and I moved to Idlib. There our marital problems escalated and he married another woman.
A new phase of suffering began. Even though I felt no jealousy towards a man who had filled my life with pain and misery, I was devastated to see how well he treated his new wife after 20 years of tormenting me.
I believe that this stress was the cause of my stroke, after which I was hospitalised. I was very sad when I recovered instead of dying. I had been looking forward to join my dead child, without whom my heart was filled with sadness and pain.
Finally, after many years of enduring his oppression with patience, I asked for a divorce and got it. I thought that I could carry on without him, but my life became even worse.
I needed a breadwinner for my children as I had no money and my family couldn't help us financially. I even began searching for a reason to go back to my husband, not because I loved him but to secure my family's needs and rescue us from homelessness and poverty.
In the end, my ex-husband took my children and I returned to live with my family.
But life there was hard and painful too, so I decided to get re-married, hoping that this would improve my lot.
I did not know who might want to marry a 40 year-old woman, but then I met an Uzbeki immigrant, who barely spoke Arabic but was searching for a wife. It did not take long before the two of us got married. With him I experienced feelings of tenderness, love and happiness and in his eyes, I saw a passion and yearning that I had never dreamt of with my first husband.
But I knew that my happiness would be short-lived. These immigrants were harassed and there were even attempts to kill them. They gradually began to leave the country, and like others, my second husband soon returned to his homeland and left me to my fate: injustice and deprivation.
Life is unpredictable, and no one knows what's coming next. But I have faith in God, and know that this life is trivial. I will search again for a new purpose in my life to fill my remaining days.
Yamama Asaad, 40, lives with her husband and three children in Idlib. She is studying journalism.