Community Initiative Refits Shelters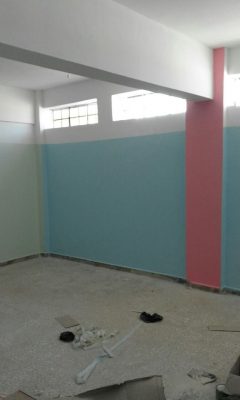 A room in one of Hish's shelters. Photo by: Reem al-Ahmad.
"Residents say they now have somewhere safe to hide during air raids."
As soon as she hears the warning sirens sound over the town of Hish,  Khadija rushes with her children and grandchildren to the nearby shelter.
The 64 year-old said that the newly-renovated shelters are not only more comfortable but feel more secure than the cellar in which the family used to hide.
Her seven-year-old granddaughter Amal also said she feels much safer.
"The aircraft won't be able to kill us," she explained. "We immediately run to the shelter which has everything we need to feel at home."
Four shelters have been fully refitted and provided with power and water in the Idlib town of Hish thanks to the efforts of the AJAX community initiative, together with the local council and police. Three shelters house civilians and the fourth is for emergencies.
"The state of Hish is no secret to anyone," said local council head Ahmed Mustafa Hanaki, 37. "The town is targeted by aircraft because of its proximity to the Damascus-Aleppo international highway, so rehabilitating the shelters was an urgent need."
AJAX head Hassan al-Shawa, 32,  who also serves as the deputy governor of Idlib, agreed that a needs assessment had identified improving public shelters as a priority.
"As a result of the barbaric bombing by regime and Russian aircraft in recent times…  a shelter rehabilitation project [was] a dire necessity for the town, especially since three shelters were originally cellars under schools."
He explained that AJAX had allocated 22,000 US dollars for the project's implementation, following which the local council announced a tender to select a contractor to implement the project.
"Out of nine offers, civil engineer Abdul Hamid Salloum was chosen to implement the project," al-Shawa continued. "As part of our follow-up to monitor the stages of work as an assessment group, we noticed that the execution was good."
Salloum, 44, said that the need for properly-equipped shelters had been so great "that we were able to complete the work in six weeks instead of eight".
He added, "The shelters are fully equipped with tiling, electricity and water at a cost of some 5,000 dollars each, and every shelter serves around 1,500 people".
Local police officer Abu al-Nur, 41, said, "The four shelters are located so as to cover all parts of the town. The role of the police is to help protect citizens as soon the civil defence forces sound the warning sirens."
He continued, "We break up any gatherings in public places and help guide people to shelters, to try and avoid the large massacres previously committed by the regime."