Damascus Water Crisis Continues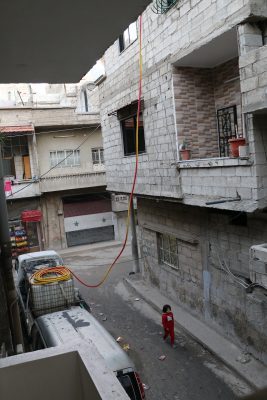 Houses are supplied with water by tanks at a very high cost. Photo by : Karam Mansur
Um Ahmed, a 45 year-old resident of the Bab al-Sarija area in Damascus, says it is a daily struggle to find fresh water.
Her neighbourhood, like many others in the capital, has been suffering repeated water outages for months.
The crisis began after the regime army launched a campaign in the Barada valley, the location of Ain al-Fijah which is Damascus's main water resource.
This source, 15 kilometres away, used to supply the capital with 30 cubic metres of water per second, according to the Damascus Water Corporation.
"On December 23, the regime began attacking the valley. Two days after the beginning of the military campaign, the water was cut off," Um Ahmed said, adding that the area had ample natural water resources.
"Damascus drowns in winter rains and the Barada river, the artery of Damascus, floods its banks. Yet there are seven million thirsty people in the capital," she concluded.
According to the the regime's SANA news agency, it was the opposition forces who severed water supplies to the capital. Local opposition factions denied this, reporting that the regime had targeted the Ain al-Fijah pumping station and diverted the water flow towards the Barada river.
Although the regime has declared its military operations in the Barada valley to be a complete success, claiming it now has full control over the area, the water issues continue.
Ongoing shortages mean that many people in Damascus have resorted to carrying home supplies from reservoirs in public parks.
Ibrahim, a 14 year-old from the central Bab Musalla neighbourhood, said, "For about a month, because of the interruption of water supplies, every day my brothers Hadi and Mehdi and I carry water from the Ibn Asakir garden to our house."
He continued, "When the water supply reaches the Ibn Asakir garden, we line up in a queue with hundreds of people. Every resident of the neighbourhood is entitled to 25-litres of water from the garden. Then my brothers and I transfer the water to our house, which is on the fifth floor."
"When we carry the water from the public gardens to our home, I remember my grandmother's tales about how they used to transport water from the well in the olden days. We are experiencing that right now."
Elsewhere, government employees have taken to bringing huge plastic containers to fill them from with water at their places of work.
Abu Maher, a 59 year-old from the al-Zahra neighbourhood, works in the governorate building in Marjah square.
"When I can't get water [anywhere else], I take gallon jugs with me. I fill them at work and I am trying to use just 50 litres of water per day,"he said, adding, "Since the beginning of the water crisis, many of our daily habits have changed to suit the scarcity of water.
"We even shower less because of the urgent need for water."
The local authorities have transferred drinking water from local wells to specific neighbourhoods, although some people have complained that supplies have been distributed on a political basis.
Ameena, 36, lives in al-Aamara street in downtown Damascus, an area where it is particularly hard to source water.
In contrast, she said, neighbourhoods such as Al-Jura and Al-Ameen, only hundreds of metres away, enjoy regular supplies.
"This unfair distribution has to do with allegiance," Ameena said. "The neighbourhoods of al-Maliki and Abu Rummaneh, where officials and rich people live, have permanent water supplies. Other neighbourhoods such as al-Jura, al-Ameen and Mezah 86 constitute human reservoirs of regime loyalists, so the regime seeks to ensure they have services."
The cost of drinking water also quadrupled as many mineral water traders took advantage of the situation to raise prices.
People can buy water from tankers bringing supplies from wells in the suburbs of Damascus. But the price of a tank of drinkable water now costs five US dollars, five times that of before the crisis.
Imad, 36, who works as a water tank driver, said that his job was not an easy one.
"In many cases, the checkpoints in Damascus prevent us from reaching the houses we are trying to serve and soldiers at the checkpoint order us at gunpoint to go to another area," he said.
He recalled how once, at a checkpoint guarding an industrial zone, the commanding officer stopped him and sent him accompanied by a soldier to deliver water to his own home in Mezah 86. Imad was threatened with arrest if he did not comply, and was not paid for his time or the water he supplied.
"This was repeated with many drivers, as checkpoint officers ordered us to fill the water tanks in their homes on pain of arrest," Imad said.
The water outage has had severe implications for public health.  Medical sources at al-Mujtahid hospital reported more than 300 cases of food poisoning caused by eating unwashed vegetables or cooking food in contaminated utensils.
Many restaurants and cafes have also stopped washing their dishes, merely cleaning them with wet wipes to save water. They have also stopped providing free glasses of water for their customers.  
The crisis has also led to new popularity for traditional public baths or hammams. Since these have fixed allocations of water mandated by the ministry of tourism, the numbers of customers have soared and people need to book several days ahead for even a shower.
Other public spaces have not been so fortunate. Haj Abu Mohammed, a 63 year-old worker in a mosque in the al-Jabia neighbourhood, said that they no longer had the resources to allow congregants to wash before prayers.
"The water outage in Damascus hasn't just been confined to streets and public facilities, but also to mosques. In most of the mosques in the capital, we closed taps for worshippers because of the lack of water and we asked them instead them to wash at home and then come to the mosque."
He continued, "I have been working in this mosque for 30 years and I have been visiting it for 58 years. For hundreds of years, the people of Damascus have not been deprived of water the way we are being deprived of it now."