The Alternative Kindergarten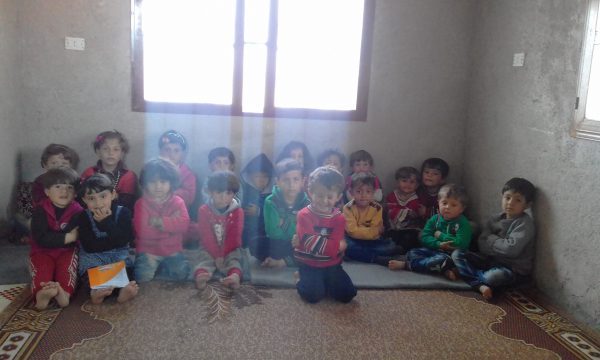 Children in the makeshift kindergarten in Hass. Photo: Jud Mustafa
A resident of Hass has turned his own garden into a makeshift kindergarten for children, nearly a year after the neighbourhood school was destroyed in a regime air strike.
Ahmed, 38, converted a small single-room structure in the garden of his home for local pre-schoolers.
More than 20 children were killed in the October 2016 bombing of the school compound, in what became known as the Massacre of Pencils.
Ahmed told Syria Stories that he volunteered "to help compensate the children for the loss of their school" even though the facilities he could offer were very basic.
"Instead of being left in the street playing with shrapnel, they are sitting in a small kindergarten which, with the help of some others, we furnished with a carpet and an old heater," he said, adding, "I couldn't bear to see the children without a room to shelter them, I wanted to give them something simple with the help of my friend Ali and other teachers."
Ali, 42, has taken charge of organising the daily running of the kindergarten, which now caters for around 20 children.
"The teachers cooperate with us because its our collective responsibility to look after our children," he said. "We are actually running out of resources, especially stationery and school supplies, but we are continuing to teach because it's better than not doing so." 
Fatima, the makeshift kindergarten's teacher, said, "It's very difficult for me to do my job because there are no chairs for the children to sit on, which means it's hard to keep order because everyone is sprawling on the ground. This is also a problem for some of the children with injured legs, as it's difficult for them to sit on the ground."
The 40-year-old continued, "In addition, that the place is basically very small and there is no space for nap time, which on most days leads to chaos."
Six-year-old Maryam lost a foot in the Massacre of Pencils and told Syria Stories that she suffered a lot from infections. Other children couldn't avoid hitting her foot as they played n the closed confines of the new kindergarten, she added.
Maryam's friend Farah, also six, said that it wasn't so much fun in their new premises.
"There are no games here and we don't get gifts. I was afraid to come here because of the aircrafts which are always bombing," she said.
 But parents such as Um Mahmoud said that it was important for young children to get a chance to learn and play. She sends her two children to the kindergarten each day, despite her fear that the site might be targeted in another regime bombing.