Shahba Provides Refuge for Displaced Syrians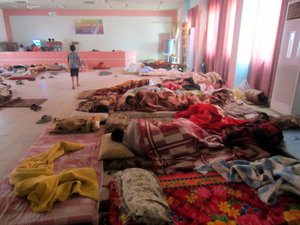 Youssef Kanaan
Abu Meri's young son died a year and a half ago, but he still speaks animatedly about him to anyone who visits him.
His son was among the first people shot dead by Syrian security forces in the city of Deir el-Zor in eastern Syria, soon after protests against President Bashar al-Assad began in March 2011.
For Abu Meri's family, like thousands of others, the tragedy did not end with the death of one of its members – everyone had to leave their home and become refugees.
After seeking refuge elsewhere, many have had to flee again.

As clashes between government and opposition forces in Deir el-Zor intensified earlier this year, Abu Meri and his family went to Damascus. But as the fighting spread to parts of the Syrian capital two months ago, the family decided to move again. They gathered up their few belongings and headed south towards the town of Shahba in Suweida province.
"It is strange that the media only talk about the refugees outside Syria, as if the humanitarian catastrophe were limited to those people alone," Salem Nassif, a journalist from Shahba engaged in relief work, said. "The number of internally displaced people in Syria is now over two million, but no one hears anything about them."
It has not been easy for Suweida's residents to absorb the influx of internally displaced persons, IDPs.
"The relationship between the community and these guests has taken various forms to date," said Shahba resident Abu Ali (not his real name). "There is some rejection and… fear, while others have shown acceptance and compassion."
Most of Suweida's population is Druze. There are some opposition activists among the community; they provided humanitarian aid to the neighbouring Daraa province where the protests first started. However, as with other religious minorities in Syria, the Druze have remained largely supportive of the regime.
Despite this, humanitarian values and hospitality seem to have taken precedence over other considerations, as the province continues to take in large numbers of IDPs.
It is paradoxical that people who offer humanitarian aid to IDPs often end up displaced and in need of aid themselves.
One such person is Abdullah, whose home in the Midan quarter of Damascus was destroyed during recent clashes between the Free Syrian Army, FSA, and government troops. He fled to Shahba, where friends helped him find a place for his family to stay.
Abdullah is concerned about the forces at work that led to his displacement.
"The emergence of new paramilitary groups from the chaos is more of a catastrophe than being a victim of clashes between the regime and the FSA," he said. "These groups have taken up arms, and they fight in the name of either the FSA or the regime. They are thugs and bandits… who have taken advantage of the lack of security to engage in looting and kidnapping. Who is this third force affiliated with? Who can stop it and hold it accountable?"
Abdullah worries that he might be away from home for a long time. He holds both sides in the conflict responsible.
"Regardless of who is responsible for my displacement, at the end of the day I am a victim of the actions of all sides," he said. "In war, it's civilians who pay the price."
As well as paying the price of war, Syrians are having to do the lion's share of the relief work.
"The government's efforts account for barely ten per cent of the humanitarian aid that's needed," Nassif. "Only two [refugee centres] have been set up… and they have a capacity of just 1,500 people between them. The Red Crescent has done less than was hoped. So far, it hasn't provided the help that's needed in Shahba and the rural areas [of Suweida]."
As in other provinces, the failure of government to deal with the IDP problem has driven Suweida residents to organise their own humanitarian aid efforts. Volunteers have formed neighbourhood relief teams, and donations have come both from the local community and from expatriates originally from the province.
One example is a volunteer campaign called "My home is your home." According to Nassif, "The team includes opposition activists, regime loyalists and people who are neutral. Its members were brought together by a shared sense of hospitality and patriotism. They have set up several committees which… cooperate with other teams in the province."
The volunteers fear they will run out of money and supplies because the road to Daraa is closed, and the highway to Damascus has become dangerous. This has made supplies more expensive and travelling to get them difficult.
It is hard to gather reliable information on IDP numbers in Suweida as they are dispersed over a large geographical area. Aid activists estimated that the province now has over 10,000 IDPs from various parts of Syria. That figure does not include people who can afford to rent their own accommodation – their numbers are put at more than 20,000.
Activists are trying to provide accommodation, healthcare, food supplies and baby diapers. IDPs complain of overcrowded accommodation and the difficulty of getting treatment and medications for chronic diseases.
The beginning of the new academic year has compounded the crisis, as many IDPs have been housed in school buildings.
The United Nations children's agency UNICEF says over 2,000 schools in Syria have been partially or completely destroyed, and is seeking 40 million US dollars to help children continue their studies. There are also questions about what will happen to IDP children who are now far away from their own schools.
Despite the harsh situation he faces, Abu Meri still has hopes for the future. Describing his long journey from Deir el-Zor to Suweida via Damascus, he said, "We Syrians never knew each other before. The revolution has united us in spite of the regime."
 "Perhaps it is through God's wisdom that Suweida has been left safe to be our refuge from death," he continued. "It has played a great role, as important as that of the protestors or those fighting against the regime's forces. Its role has complemented that of the revolution, and this is why we will inevitably prevail."