Searching for my Husband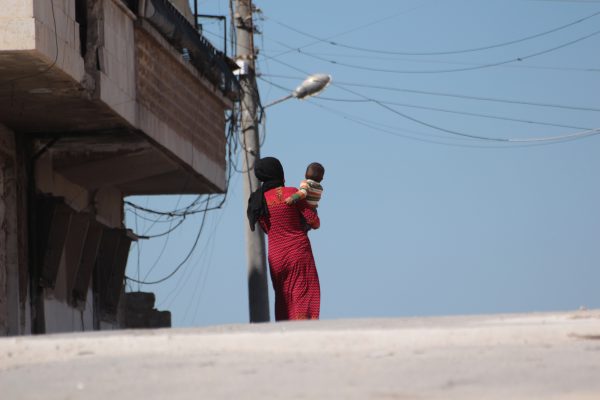 A woman from Idlib countryside carrying one of her children. Photo by : IWPR
My husband was everything to me. He was the father of my children and my best friend. I was very attached to him, I was infatuated. We spent ten years together, the most beautiful of my life, during which God blessed us with four children. But our dream ended in September 2013, on the day he was arrested by the regime.
In Syria, when someone you love is arrested, you have no ideas which security branch is holding them. They may never be found. You have to start searching and if you find them, even if they remain in prison, you feel a sense of elation because so many detainees are forever unaccounted for or end up dead.
During the first months of my husband's arrest, I was still in shock. I didn't start looking for him immediately, or search for anyone who would help me.
But in April 2014, seven months after his arrest, his brother told me that a woman from the countryside of Hama, where we lived, told him that she had heard my husband and her son were together in the Adra prison in Damascus.
My sad heart was flooded with happiness. I went to the market and sold a piece of gold I had to buy clothes for my husband and to pay for the expenses of my trip to the capital.
In the morning I travelled together with the woman to Damascus, taking with me my youngest daughter, aged two years old.
We arrived in Damascus late that night due to the roadblocks on the way, and stayed with some of the women's relatives in a house near the Adra prison.
But the next morning, I was disappointed.
The woman managed to meet her son at the prison. Yet after all the hope and all the trouble I'd been through, when I went to apply for my visitor's permit, the policeman told me, "Your husband isn't here."
I left the prison weighed down by disappointment. I spent the night at the same house with the woman and in the morning I wanted to return home.
However, one of my husband's relatives called me and said that I should take advantage of my stay in Damascus to go meet a certain colonel who might be able to help me. I decided then that I would not give up, I would fight for the father of my children.
But that colonel, after I overcame many obstacles to meet him, just seemed to want to question me about the revolution and our role in it, rather than help me. In the end, he told me, "I don't know where your husband is, go to the palace of justice and lodge a search request."
So that's what I did the next morning. I was told that the result of the search request would be ready only in 40 days. I told the policeman there that it would be difficult for me to return after 40 days because I live in the countryside of Hama. He offered to help me- but only in return for something too disgusting to repeat.
So I suffered three disappointments in two days: not finding my husband in the prison, the colonel who was no help at all and that vile policeman.
I held my daughter outside the palace of justice and said to her, "I can no longer try to find your father. The disappointment has almost killed me and I have to give up my dream of seeing my husband again if I ever hope to return to my children, safe and sound."
My trials were not over yet; on the way back home I faced more harassment at the regime checkpoints.
The regime arrests thousands of the finest of our young Syrians and take them away, never to be accounted for. And what's more, they harass the wives who come looking for their husbands. What kind of despicable regime is this?
Um Jamal, a 29 year-old mother-of-four from a village in the southern Hama countryside, is unemployed but looking for a job to support her young children.