Patient Until Death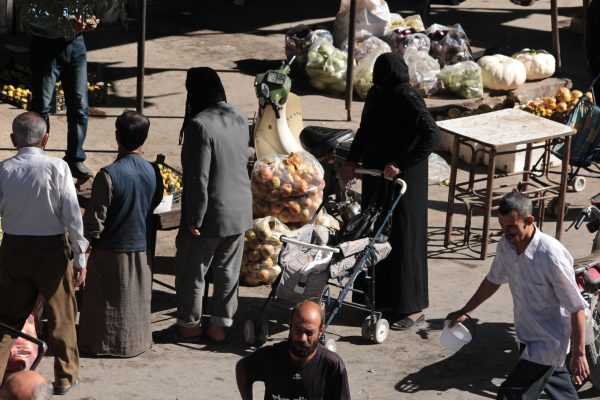 A woman from the Idlib countryside shopping in the main market. Photo by : IWPR
I first met Wafa, a sweet woman approaching 40, when she and her family moved to our village. They had fled regime oppression in Aleppo, and she ended up living in a house close to me.
One day, she told me about her eldest son, Ibrahim, who had been arrested in 2013 as he travelled to Damascus to visit his uncle. Ibrahim was barely 16 years old.
"My son is tall and has brown hair," Wafa told me. "I watched him grow up with indescribable joy. But since his arrest, I have no idea what has become of him."
She risked her life by travelling to Hama city, where she was told that he was in prison. There she fell victim to an unscrupulous lawyer who promised that he would get Ibrahim out of prison, in return for two million Syrian pounds. Such stories are common; many lawyers and officials who support the regime exploit the desperation of the families of detainees.
Wafa sold her gold bracelets and some of her furniture and borrowed money from her everyone she knew to try to bring her son back.
She paid the lawyer one and a half million Syrian pounds, and promised to pay the rest after her son got out of prison. Wafa's efforts were in vain. The lawyer stole her money and she returned to her village disappointed.  
Wafa was right back at square one. She discovered that Ibrahim had not been detained in Hama prison after all. Then she heard that he was being held in Damascus in the Palestine Branch, and then other sources told her that he was in the infamous Sednaya prison.
Wafa was floundering, desperate for a glimmer of hope that she would see her son again. I tried to calm and comfort her, but I was certain that a 16-year-old would not be able to bear the torture of the prison's executioners.
But who can say such words to a mother?
Wafa never lost hope. She waited for three long years. God gave her another child, and I last saw her on November 10, 2016 when she was in the market buying milk for her ten-month-old son. I greeted her and asked about her son Ibrahim and whether she had heard any news of him. She hadn't, and she told me, with tears in her eyes,  "I wish I could see him once more before I die."
The following morning, I was cleaning the house and my husband and children had gone to work in our orchard. Just before nine am, a warplane flew overhead and fired its missiles at the main road, ten metres away from my house.
We all ran to hide in shelters and nearby caves as usual, fearing more air raids. In the shelter, I began to ask the other villagers if anyone had been injured.
My neighbour told me that Wafa had been sitting in front of her house with her husband at the moment of the raid. She was hit by shrapnel and died instantly. Her husband was wounded in the face and arms.
May you rest in peace, Wafa. I don't know if you met your son Ibrahim after your death. Or if he is still alive, and he will emerge from a regime prison to search for you like you searched for him. But you have been relieved of the burden of this world, and of your exhausting search for the truth.
Nour al-Huda Idlibi, 39, has been married for 18 years and has three children. She holds a baccalaureate in literature.