My Son Is My Real Celebration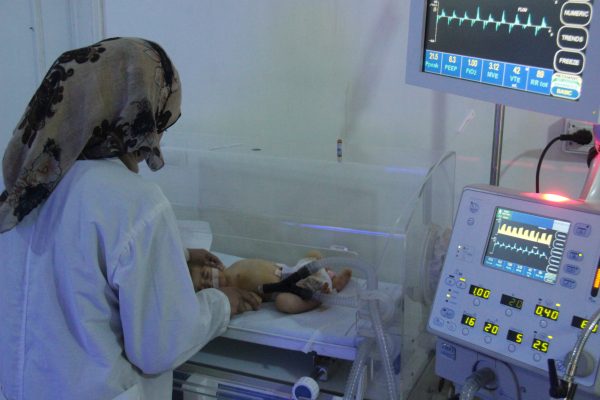 A nurse in a hospital in rural Idlib examines an infant. Photo: IWPR
"War robs a young woman of her dream wedding, but not her happy ending."
When we arrived in Turkey from Syria, after facing many problems on the way, my family and I settled in a small house near a relative who had also been been displaced. After a while, I started looking for a job and found one in a cardboard box factory.
I spent most of my time working, trying to help my family with the rent and other household expenses. Thankfully I could ensure we got most of what we needed.
One day after work, a woman I knew from my hometown of Hass approached me.
We talked, and she asked me if I got married yet. I don't her that I hadn't. She told me she wanted me to marry her brother. I was very happy to hear that because I was hoping I would be able to marry someone from my hometown, especially because I was in Turkey. I told her I wanted to ask my mother.
My mother agreed I could marry the young man and was encouraged by the fact that he was a member of the Syrian Free Army. My father also did not object, so I got engaged without ever seeing my future husband. My marriage could not take place in Turkey because the groom was in Syria and couldn't travel there. So my mother, my brother and I went to Syria because we had Turkish IDs and it was easy for us to go back and forth.
We stayed in the best man's house for a short while until the groom and his family prepared the room in which we would live.
We didn't have the wedding I dreamed of; my friends didn't come to congratulate me and my father wasn't next to me.
But what else can I say but, thank God for everything.
After our marriage, we lived in a small room in my husband's family's house. We had a peaceful life full of love. Two months later, I learned that I was pregnant. My husband and I were very happy.
A short while later, my husband went to fight in a battle in the Kurdish mountains and was gone for almost a week. He failed to return on the date he had said he would, and we had no news of his whereabouts.
I was terrified and had a million thoughts running through my head. Has he been injured or martyred, will I have an orphan child, I asked myself.
His brother tried to find out more information from a friend, who told him that my husband had been shot in one of his feet during the battle. He was taken to a field hospital.
When his brother came to tell me, I was so afraid I could barely believe what he was saying. I thought my husband had died but thank God that wasn't the case.
My husband needed an operation and after it he couldn't walk for a month. It was very difficult for him. He was not used to sitting at home for long periods and I had to look after him, even though I was pregnant.
But when I gave birth to my child, the joy returned to our house.
A son blessed with parents next to him, that was the real dream and more important than any wedding.
Nour al-Mustafa, 26, is from Kurnaz in Hama countryside. Displaced several times, she eventually settled in Idlib.