Idlib's Next Generation of Farmers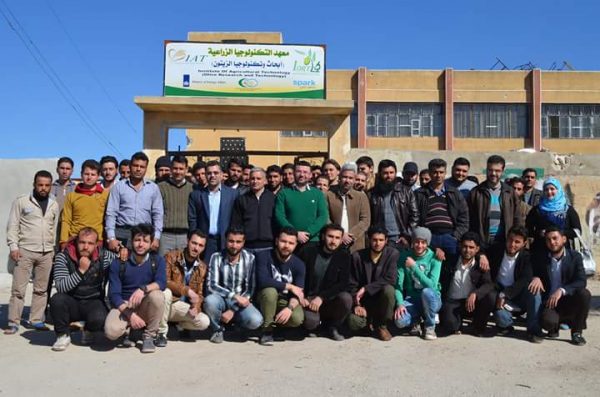 In front of the Agricultural Technology Institute. Photo by: Sonia al-Ali.
Abu Wael is filled with happiness every time he takes his son Mohammed to the family's olive grove and watches him tend to the trees.
Mohammed, a graduate of Idlib's Institute of Agricultural Technology, is using his skills to make sure that the precious trees are well-cared for, disease free and continue to produce a good crop each year.
The institute at Jabal Zawiya in southern Idlib first opened its doors on October 18, 2015, founded by the Dutch organization SPARK and implemented by the International Agricultural Cooperation Organisation.
"This institute is important because all agricultural colleges in the liberated areas were shut down, so the only place to learn farming became the government school," explained its dean, Khaled al-Tawil.
"Not all students could attend because [the study centres] were located in provincial centres which put students in danger, especially because of the spread of regime checkpoints on public roads," the 46-year-old continued.
"That's where the idea of ​​opening the institute came from, to teach students who had stopped studying in agriculture faculties or who want to start studying this specialty."
Students learn modern farming methods, with priority given to those whose agricultural studies have been interrupted.
The institute has 230 students, with equal numbers of men and women who are taught separately.
"The number of women in the Institute is equal to the number of men and sometimes even greater, and that makes me happy," said Marwa, 20. "We greatly benefit from learning agricultural project management, given that farming is one of the most important human activities in our region. We also gain new methods to take care of crops and learn good land management amid a situation of conflict, and we hope to reclaim and rehabilitate neglected land."
Al-Tawil said that institutions such as this were essential in regions that were attempting to recover from war.
"The migration of agricultural experts has left large tracts of land without investment and the declining agriculture sector is threatening food security," he said. "The Agricultural Technology Institute has become an urgent necessity, helping our young people to improve farming and restore hope for a better tomorrow to benefit them and the nation."
"Students study at the institute for two years, divided into six levels," the dean continued. "Each level lasts three months and they get a certificate at the end of each level. When students complete all levels, they are given the final graduation certificate which is certified by the Dutch foreign ministry, the Syrian coalition government, the International Agricultural Cooperation Organisation and SPARK."
Teacher Abdul Rahman al-Byush said the curriculum was extensive, with a particular focus on olive farming.
"The educational plan began by taking the students through an intensive training which teaches four points related to pre-harvest olive services, disease treatment and modern machinery for the manufacture of olive oil," the 39-year-old said. "And then the rest of agricultural courses were adopted, namely plant protection and orchards, the food industry, livestock production, plant production and the English language."
SPARK has opened two other institutes in liberated areas in Homs and Daraa, providing classroom furniture and teaching materials as well as paying staff salaries. The students get a small stipend to pay for transportation costs.
"Apart from the bombing and the lack of security, , the difficulties that we face are mostly financial," al-Byush continued. "For example, the institute lacks a car to transport students to the fields for practical lessons and field tours so we have to rent cars. Then there's the laboratory equipment. If we had the abilities, the institute would have been up to scratch on all levels."
Amin, a 21 year old student, said, "I was in the third year when I had to leave the university because of the deteriorating security conditions on one hand and my financial situation on the other. When I heard about the opening of the Agricultural Institute of Technology, I signed up so as to build on the information I learned at university, to gain additional experience and to get the Institute certificate after completing all levels."
He tries hard to be top of his class, as students who excel are sent abroad to complete their studies in agriculture.
For his part Walid, 19, never expected to be able to continue his studies after graduating from high school. But now he hopes his time at the Institute will enable him to get a decent job.
"Attending university became a dream for many young people," he said. "But such institutes provide an alternative and innovative solution which helps us continue our education.".