Therapy Helps Idlib's Traumatised Children Speak Up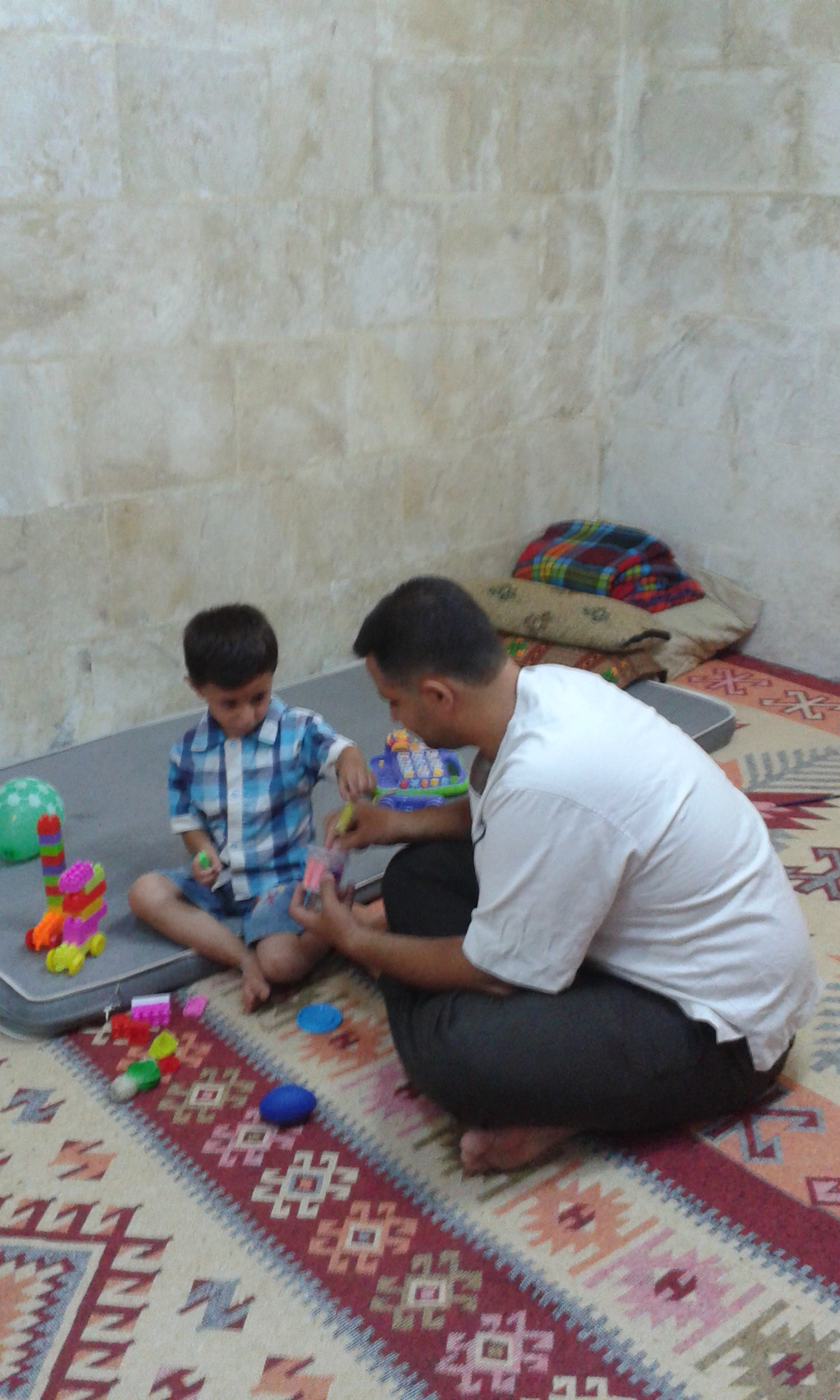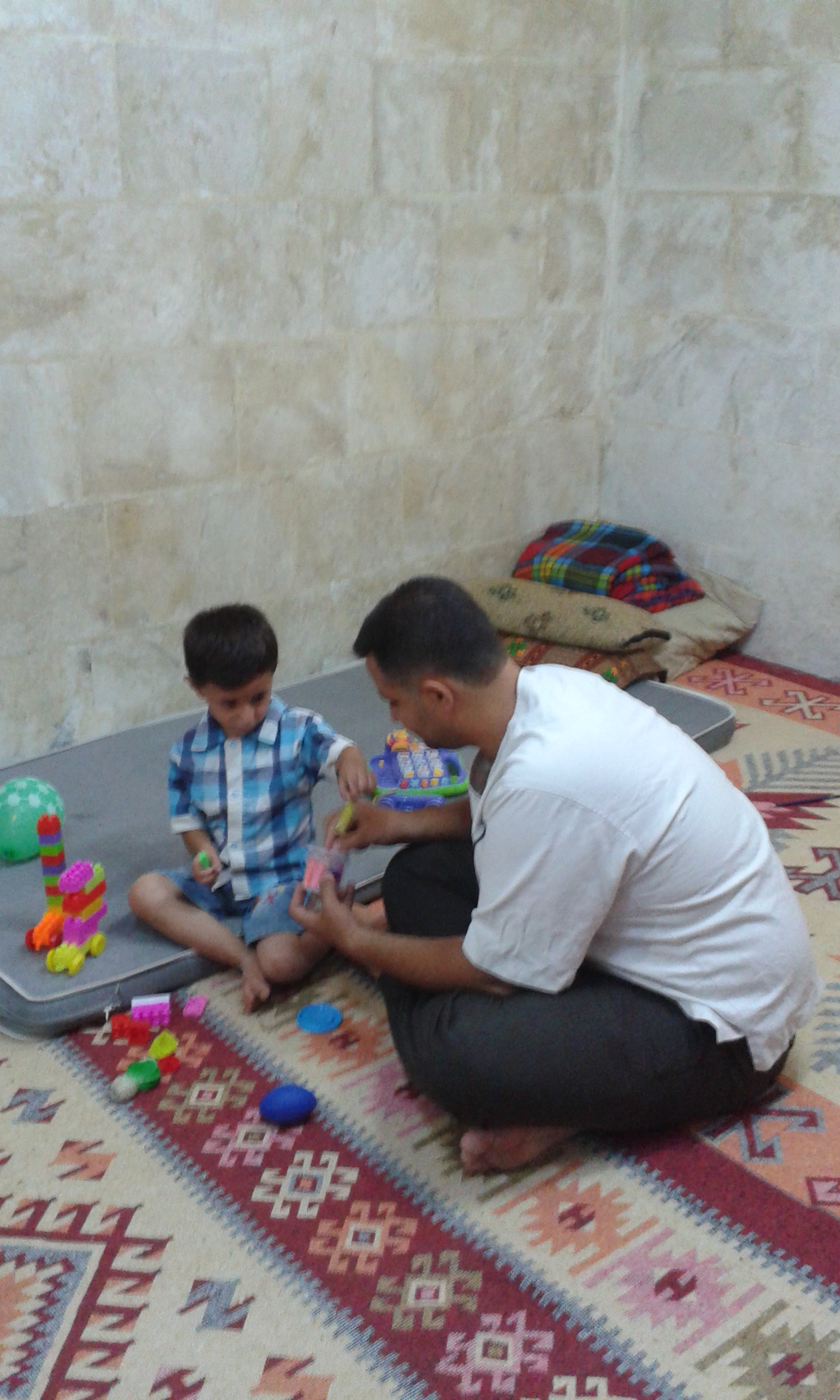 Hani, 12, has a severe stutter, often faints and has difficulty controlling his bladder. These problems began on April 13, 2015, when he was playing in the street and a rocket exploded nearby.
Hani's family sought help at the Fassih centre, a local Kfar Nabel initiative dedicated to helping children psychologically affected by the conflict. He now appears to be responding to treatment, and his condition has significantly improved.
The Fassih centre focuses on speech therapy and was inaugurated on August 9, 2015, by a group of education professionals. The Union of Revolutionary Bureaus (URB) in Kfar Nabel awarded them a monthly grant of 3,000 US dollars to cover basic expenses such as wages, medicine and audiograms. Treatment is free to all patients.
Fassih's director Ala al-Abdalla, who holds a postgraduate degree in phonetics, said their work centred on helping children with speech impediments brought about by trauma.
"We focus on the psychological problems that affect children," he told Damascus Bureau. "Through verbal communication, we attempt to help them overcome these problems and regain their ability to speak.
"Surgical intervention and medical treatment fall outside the remit of our centre," he continued. "If we discover a problem is physiological and is related to hearing or speech organs, we refer the child to a medical centre for treatment."
Fassih also works with autistic children.
"Here we work on establishing a connection with the children to develop their verbal communication," al-Abdalla said. "For example, if a child suffers from an audiovisual impairment we use audiovisual stimulators to communicate with him or her, such as videos, projectors, toys, colours, natural sounds, special drawings and so on."
Al-Abdalla highlighted the story of a four year-old named Amjad who had developed signs of autism at the age of two-and-a-half. Although Amjad's autism had affected his speech and hearing, Fassih staff nonetheless managed to help him regain these abilities.   
"The centre has five fully-trained and specialised educational professionals," said al-Abdalla. "They are highly experienced in psychology, counselling and sociology. Most of them used to teach at Syrian universities but were forced to abandon their jobs to evade compulsory military service."
Ahmad al-Ismail holds a degree in philosophy, specialising in psychology, and is another Fassih staff member.
"Our work includes helping children who suffer from stuttering, lisping, aphasia and other speech impediments. We also tackle problems resulting from confusion, fear and loneliness," he said. "Using sound educational and psychological principles, we try to help children reintegrate into their communities and surroundings. We also conduct occasional home visits to monitor their progress."
TAKING A BROAD APPROACH
Abu al-Majd holds degrees in sociology and Arabic language, and is an expert in neuro-linguistic programming (NLP). Prior to the civil war, al-Majd worked as a human development trainer at a private institute in Aleppo where he taught courses in NLP, communication, speed-reading and psychiatric rehabilitation. Now he uses those skills at Fassih.
Al-Majd told Damascus Bureau that children usually start speaking by the age of four. Those who do not may have psychological and speech problems that need treatment.
"My work at Fassih involves treating behavioural disorders and psychosocial conditions in a manner that will enable children to interact with family members, peers and teachers," al-Majd said. "I achieve this through designing a detailed treatment plan for each child."
He explained that most of the children currently treated at Fassih used to be cared for by specialised clinics in Aleppo, Damascus and elsewhere.
Fassih is the only centre of its kind in Idlib, and around 60 children aged between four and 15 register there each month.
Al-Majd said that approximately 12 per cent of children in Idlib and its countryside needed psychological treatment, with this number only likely to rise.
Maha al-Suweid is a manager at Fassih. Holding a degree in education and psychological counselling, she worked in a private school in Al-Suwayda before the war.
"Fassih maintains regular contact with a large number of doctors, a neurologist, a pediatrician and an ENT specialist," she said. "We also collaborate with the Orient Hospital in order to determine if the cause of a child's condition is physiological or psychological."
HELPING YOUNG PEOPLE RESPOND
Despite suffering social anxiety and shyness, 14 year-old Abdul Aziz has developed a strong attachment to Fassih and its staff.
To his mother's delight, he now wakes her up each morning so she can help him get ready to go to the centre.
"Abdul Aziz is an intelligent and sensitive young man, but his speech is impaired due to childhood jaundice," said al-Abdalla. "We are trying to help him with articulation and speech, and he appears to be responding and making progress."
Another Fassih patient, Sahir, has autism and used to receive treatment at a private clinic in Aleppo.
Before Fassih was established, the nine-year-old and his father used to have to run the gauntlet of checkpoints manned by the army and pro-government shabiha militia each time they visited Aleppo for treatment.
They are now able to save themselves this frightening journey, and also the cost of treatment.
"Sahir suffers non-verbal autism, which is the mildest form of autism, and his condition can be treated at our centre," al-Majd said.  
"Other types of autism, where the child is aggressive and poses a threat to other children are not treated at the centre. Instead, we treat them in their homes."
Salma al-Zatur is a nurse at Fassih who is in charge of referring children to the appropriate doctor, securing their prescribed medication and following up on their conditions.  
Her work, she said, was very fulfilling.
"Children are the most vulnerable people to have been affected by the conflict in Syria, and I love helping them recover from the psychological problems they suffer," she said.
Razan al-Sayid is the pseudonym of a Damascus Bureau contributor living in Maarat al-Numan, Syria along with her three children. The 28-year-old holds a BA in education and works as a teacher.
Read the Arabic version of this article here