Strengthening Institutions in Opposition Areas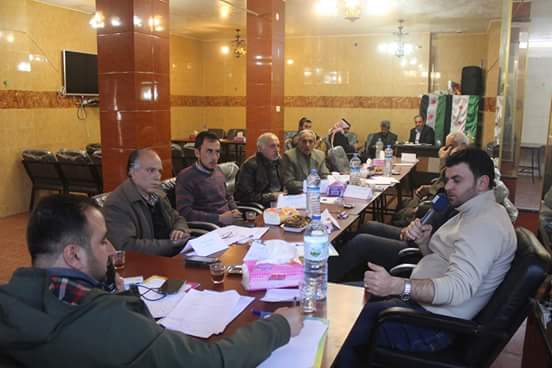 A training workshop inside Syria. Photo by: Razan al-Sayed
An independent organisation headquartered in Gazientep, Turkey, aims to strengthen institutions in opposition-controlled areas of northern Syria by coordinating activities between local councils and civil society.
The Eastern Mediterranean Institute for Studies and Training supports those working to fill the void created by the absence of the state through training workshops they run in Maarrat al-Nu'man, Hish, Sarmin, Kafr Nabl, Saraqib, Binnish, al-Dana and others.
The NGO, established in 2013, is unaffiliated to any political party or stream. Its director, Safwan Muqat, said, "We rely on studies to reveal the training needs of a number of institutions. We identified four basic courses of action: training and skills development, political, military and demographic studies about the Syrian situation, monitoring and evaluating projects and implementing supporting institutions in opposition areas."
Muqat said that they engaged in a variety of activities, particularly "training employees on public relations and in the financial and executive departments. Not only do we do the training, we provide the local authorities with the necessary equipment as well".
Work covers the governorates of Aleppo, Idlib, Hama and Latakia, with a focus on young people, he continued, adding that they had " implemented a number of youth training projects in the areas and camps, given the importance for those we consider the future generation".
As well as training, the institute has put in place water and sanitation projects and rehabilitated infrastructure in a number of areas, as well as monitoring the progress of a number of internationally-funded projects.
Their trainings, which last between a week to a month, gather together representatives of local institutions and councils to discuss the various challenges they face. The workshops then aim to find suitable solutions.
"The local authorities with whom we work are aware that operating in a random way, as they have done in the past, is a drain on human and financial resources," Muqat said. "We will work to roll out the training experience and the separation of powers over all liberated areas soon, especially because there's a real need for workshops that contribute to the process of intellectual, scientific and administrative advancement within Syria."
Maarrat al-Nu'man local council member Abu Mohammed said, "Thanks to these trainings, we have moved from an disorganised state of work to an organised state within our financial, administrative and executive offices. In my opinion, we have made progress of 80 per cent, which is a great sign for our future development."
Saraqib local council member Abu Ayman added, "The institute has provided us with training and advisory services, in addition to organising conferences and public meetings to provide studies on the Syrian reality."
Kafr Nabl local council member Abu Mahmoud said the institute worked on both "building personal capacities and community mobilisation" and added that wherever possible they also involved women in their work.
Saha, 28, a member of a local council in the Aleppo countryside, has participated in a number of meetings on the separation of powers and the division of roles between civil bodies.
"This was supported by the Eastern Mediterranean Institute through working within the educational and health offices in the local councils," she said. "I am very happy with this work and would like to see the involvement of women in decision-making processes in all the liberated areas of Syria."