Rebuilding Latakia's Healthcare System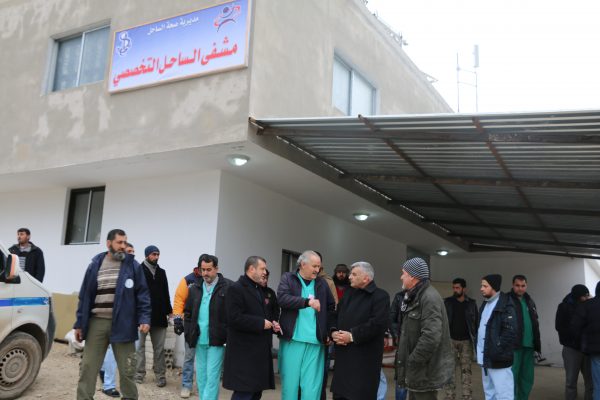 The opening ceremony for the Sahel Specialised Hospital.
A newly-established hospital is offering treatment free-of-charge to those in need across the whole of western Idlib and the Latakia countryside.
Fully equipped to treat emergency cases, the Sahel hospital also has the capacity for surgical and in-patient wards.
The hospital, which began operating on January 16, 2017, was built under the supervision of the Free Latakia health department with the support of the First Coastal Division of the Free Army.
Médecins Sans Frontières helped provide the hospital with equipment.
Mohamed Firas al-Jundi, minister of health in the Syrian interim government, attended the inauguration ceremony and expressed delight at the progress the hospital's opening marked in offering medical services in opposition-controlled areas.
Hospital director Khalil Agha said the aim had been to fill a serious healthcare vacuum in the region.
"After the fierce attack on the Latakia countryside last year and the destruction of more than 80 per cent of health facilities, including hospitals, medical centres and clinics, more than 75,000 civilians in the region were in need of healthcare," he said. "Sahel Specialized Hospital was the solution to that need."
In 2016, Syrian regime attacks completely destroyed three hospitals and four health centres in Latakia. Another two hospitals were forced to evacuate their premises after most of their equipment was destroyed.
The only remaining hospital with the capacity to carry out surgical procedures was repeatedly bombed.
Over the last two years, most people injured in opposition-controlled areas have been transferred to Turkish hospitals because local clinics simply do not have the capacity to treat them.
Mohamed Hassoun, a member of the hospital administration, said that this made the importance of investing in hospitals in opposition-controlled areas even clearer.
"We are relieving patients of the strain of additional travel, medical expense and the difficulty of going to Turkey for treatment," he said.
Hassoun said that the hospital had opened with a medical staff of over 80 and already needed to recruit more health care workers to meet the demand from patients.
Rustum Salah, 25, was hurt in a bomb attack on the village of Markshiliya in late 2015. He was forced to travel to Turkey for three months of of treatment.
"I did not have enough money to complete my treatment so I came back from Turkey without the necessary rehabilitation and plastic surgery for the burns on my body," he said.
"I hope that I will now be able to complete my treatment at Sahel Specialised Hospital since it is close to my home and its services are free."