Leila Returns to School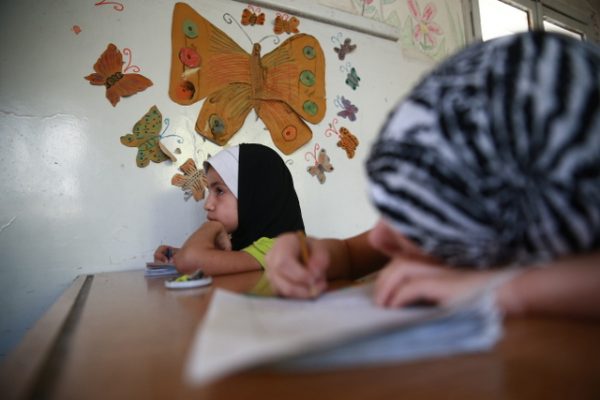 Children attend a summer course in a Douma school to help them catch up with their education.
When Leila arrived in Lebanon in early 2017, her family settled in a rural area of Beqaa that was similar to their hometown in Syria.
The family rented a small house and soon became friends with their Lebanese neighbours, the Sana family. The two households soon became inseparable.
All the children in Leila's family had dropped out of school. Leila's father hadn't allowed his daughter to resume her education ever since she had turned twelve, while her elementary school-age brothers Saad and Hassan had not returned to study since their school in Syria had been destroyed by shelling.
Their new neighbor, Mrs Sana, urged Leila's mother to enroll Leila and her brothers in school. Her own children went to the local school, including her daughter who was about Leila's age.
Tears welled up in Leila's blue eyes every morning when she saw her neighbours going to school. She would sit on the doorstep and gaze at them until they were out of sight.
Leila's mother began to warm to the idea of enrolling her children in school. She tried to convince her husband to accept the idea, especially since tuition was free.
Leila's father Abu Saad was an educated man with a history a degree from the university of Damascus. In Syria he had been a state employee and had made a decent living until the war reached their town.
The parents had a long conversation about the idea of enrolling their children in school in a new country. The father finally agreed to allow all of them to resume their studies. The children were overjoyed and their mother bought them some basic school necessities with money she had saved.
Leila couldn't fall asleep the night before she was to return to school. She kept looking at her new notebooks, pens and scented rubbers and dreaming of her first day at school.
Leila woke up unusually early the next morning. She got dressed and excitedly prepared her brothers for school too, even though – as with all Syrian refugee children in Lebanon – their program of classes would not start until the afternoon.
When it was finally time to head out, she remembered how she used to gaze at her neighbors when they walked to school each morning and smiled. As she left with her brothers, she felt it was a small step towards regaining what the war had robbed from her.
Now Leila and her brothers are enrolled in one of the Lebanese public schools that are supported by the United Nations Educational Program for Syrian Refugees, and Leila is catching up on her lost education.
Aida Allouch, 32, is from Zabadani in Damascus and currently lives in Lebanon. A widow for the past seven years, the mother-of-three carries out research into early marriage as well as studying computer science.