Helping Idlib's Women and Children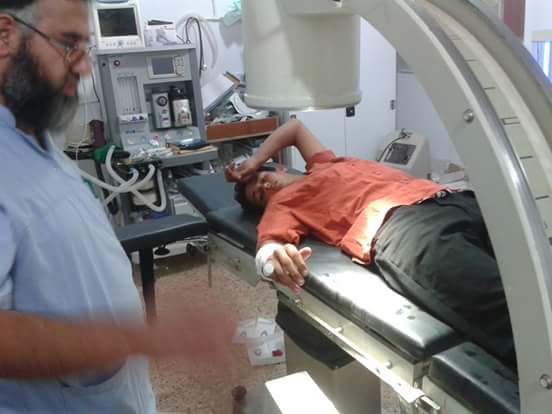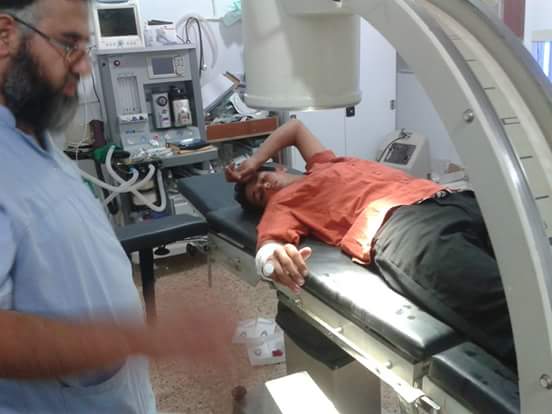 When 35-year-old Jumana found a lump in her breast, she was terrified.
"I was so frightened when I discovered it, especially as I didn't have enough money for private medical care," she told Damascus Bureau.
So when Jumana heard of a free medical centre for women in Kfar Nabel, she jumped at the chance of seeking help.
After a full examination, a specialist determined she had a benign tumour and removed it.   
The medical centre was founded by Idlib's Union of Revolutionary Bureaus [URB] on August 1, 2015.
Supervising officer Alaa told Damascus Bureau that it had several divisions including an examination ward and a pharmacy.
"The centre opens every Monday and accpets both women and children," the 22 year-old said.
"Patients are examined, then prescribed medicine which they collect from the centre's pharmacy for free."
This is particularly important as supplies in many opposition-held areas have largely been exhausted.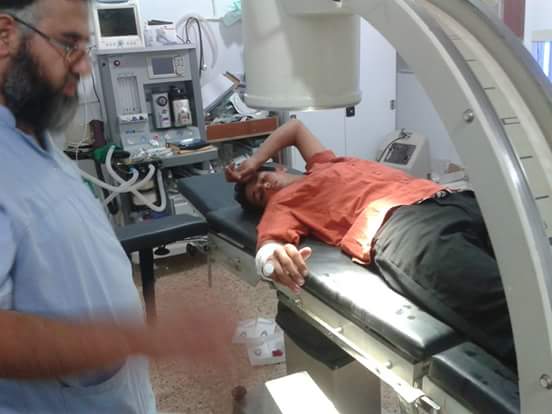 During the rest of the week, the centre operates a mobile medical unit that operates in villages and towns in Idlib's countryside.
Centre director Hala said that they had contracted a number of consultants to conduct field visits. Patients in need of operations were given referral cards to bring to the medical centre.
"We then make sure that the patient undergoes the necessary operation at an appropriate hospital, and cover all related expenses," the 28 year-old ophthalmologist said.
The centre deals with around 75 patients a week. Emergency cases are treated immediately, while non-urgent cases are scheduled for when consultants are not out on their weekly rounds.  
When Umm Mohammed's son was injured and required urgent surgery to his jaw, she immediately approached the clinic.
"I received a very quick response from them," the 38 year-old said.
"They appointed a consultant to carry out the operation and covered all related expenses which exceeded 200 dollars. Thanks to the centre, my son has recovered fully and is doing well."
The centre's consultants, who perform an average of 10 operations a month, include paediatricians, gynaecologists and ENT physicians.
"We're ready to conduct any operation we think the patient needs, even open heart surgery," Hala said.
The URB clinic obtains medicine from government-held cities such as Hama and Damascus, and neighbouring countries such as Turkey and Lebanon. This is done via a network of pharmacists working with the centre.
Umm Ghassan, a 50 year-old widow who has high blood pressure and diabetes, gets all her medicine each month from the centre.
"I don't know what I would do without the centre's support," she told Damascus Bureau.
The centre is currently unable to offer treatment to patients who suffer diseases such as cancer, due to the lack of specialists and equipment. Nevertheless, it helps provide drugs where possible.  
One patient, 40 year-old Amal, was diagnosed with breast cancer a year ago and had surgery at a hospital in Damascus. The tumour was successfully removed, and she began receiving chemotherapy treatment every 20 days.
However, Amal stopped going to the hospital when her two sons defected from the army as it was in a government-held neighbourhood. Unable to afford private chemotherapy at 250 US dollars per session, she approached the medical centre where doctors promised to help.
The URB's Idlib director Raed Faris told Damascus Bureau that the clinic had been set up due to an urgent need for health care in areas liberated by the opposition.
Monthly running costs were around 5,000 dollars, which meant it relied heavily on donations as well as doctors volunteering their services.
"The number of patients that have fallen into poverty is on the rise, and we want to make sure that no one is overlooked," the 43-year-old continued. "Everyone deserves to receive healthcare."
Razan al-Sayid is the pseudonym of a Damascus Bureau contributor living in Maarat al-Numan, Syria along with her three children. The 28-year-old holds a BA in education and works as a teacher.
Read the Arabic version of this article here