Damascus Children Face Grim Reality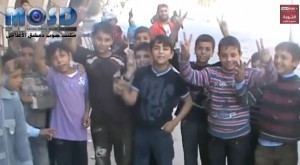 Vulnerable youngsters languish in government-run centres or fend for themselves on the streets
 By Miriam Abdullah
As I was buying coffee in the Bab Touma neighbourhood in Old Damascus, I saw a woman begging passers-by to buy her five-year-old son for 3,000 Syrian pounds (25 US dollars).
The woman, who looked like she was in her early thirties, was dressed in black robes and held a cigarette. Her eyes looked very tired.
Mohammad, a neighbourhood coffee vendor, said the woman was a mentally-ill alcoholic who lived in the city's public parks. He added that she was most likely not fully aware of her actions.
I contacted several people to help me find a shelter for her child. Unfortunately, laws and bureaucracy stood in the way.
Orphanages will not accept children without a report from the police, which cannot be issued unless a thorough investigation is carried out, for fear that the child may be the son of a "terrorist" – the term used by the government for rebels.
Despite my efforts, I was unable to convince the police to look into the matter.
Children who live on the frontline of the civil war do not fare any better than this homeless child. According to UNICEF, most schools in battle-torn areas have been destroyed during a conflict which has affected the lives of nearly five million children inside Syria.
Several reports released by Human Rights Watch indicate that Syrian children have been tortured by government forces or recruited to fight with armed opposition groups.
Some of those fleeing these fighting end up in one of around 20 government-run shelters for internally displaced persons (IDPs) in Damascus.
I recently visited one of these shelters, which is home to nearly 100 displaced families who mostly come from embattled areas outside the capital.
As soon as I walked in together with some friends, children jumped up in excitement and said, "Will you play with us?"
This centre used to be a school. An organisation close to the regime called the Syrian Trust for Development has a leading role in running it, together with the office of the Damascus governor. The Syrian Red Crescent and other civic and religious organisations also contribute to running educational activities for children such as art classes or drama performances.
Conditions in these centres are far from ideal. Wael, a social worker who has visited several IDP centres in Damascus, said that many children he met suffered from lice or scabies, or showed symptoms of post-traumatic stress.
"Some of them suffer from involuntary urination as a result of the fear they have lived under, in addition to nightmares and insomnia," he said. "They are given some care and attention at these centres, but it is not enough."
However, Wael said, the situation of these children was much better than that of the homeless kids and teenagers who can be seen on the streets of Damascus searching dumpsters for food or selling boxes of tissue papers or cigarettes.
"Children on the streets are subject to exploitation of all kinds and the only way to address their problems is by setting up centres where they can live," said Wael. "There are no centres for homeless children in Syria."
Noura, a lawyer and human rights activist, emphasised the dangers facing unprotected children.
"These children and women on the streets of Damascus are at risk of exploitation," she said. "They could be forced into prostitution or crime."
Noura has visited several juvenile detention centres. Many underage girls end up there after being forced to work in prostitution. In the absence of shelters for homeless children, many young boys are also admitted into these centres after criminal gangs have attempted to smuggle them abroad in order to put them up for adoption.
According to Noura, these incidents could be classified as human trafficking, and they continue to proliferate despite laws that criminalise them.
Mohammad, the coffee vendor from Bab Touma, said he pitied the child whose mother wanted to sell him, as well as other children living without any protection.
"I hope that your voice will be heard by organisations working for children's rights so that they can do their job," he told me. "Otherwise your work will be like that of political propaganda writers."
Miriam Abdullah is the pseudonym of a journalist in Syria.