Dividing Hass's Mountain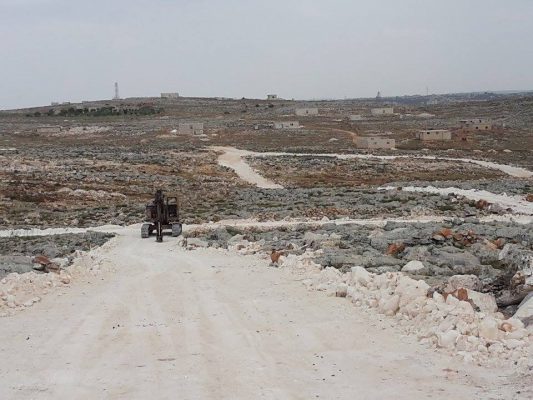 Building on the mountain. Photo: Reem al-Issa
The local council in Hass is rolling out a scheme to resolve territorial disputes by dividing the mountain on which the town sits between all its residents.
An area of approximately 11,000 dunams has been divided into some 400 plots in an attempt to ensure that the town's resources are divided fairly.  
The director of the committee tasked with dividing the mountain, Salah Eid, said that squatters had previously appropriated large parts of the territory. 
"They took vast spaces and were the only ones taking advantage of [the mountain]," the 30-year-old said. "Some of them had rented a [small] piece of land from the regime before the revolution. Their two dunams turned into more than ten dunams."
Eid continued, "The main problem we faced was persuading these people to abandon the land they had seized from the mountain in order to distribute it equally between the people of the town. Many of them agreed to our demands to give up the large areas they had taken, but others didn't cooperate with us and refused to give up their lands."
Applicants have been divided into two categories: married couples and widows or the families of martyrs and detainees. Those in the second category are exempt from fees, estimated at about 100 US dollars in anticipation of the construction of roads and the provision of other services in the future.
The head of the Hass local council, Nasser al-Araj, 40, said, "The project was launched in the winter of 2016, and everyone with identification papers is entitled to get a plot on the town's mountain, between 500 and 700 metres."
Logistics expert Turki al-Farhat, 47, explained that the council was trying to plan in a systematic and thoughtful way, adding, "The mountain was accurately surveyed and divided… according to the specifications in modern and organised construction."
Al-Farhat noted that sections had been set aside the construction of two schools, a mosque, a clinic and a hospital. Wood and grassland had also been been preserved as part of the scheme.
Alaa al-Shahoud, 33, a committee member, said that he hoped the project's legitimacy would be recognised by any future Syrian government.
"The sections were distributed to residents through identification papers similar to the ownership papers signed by the committee supervising the project," he said. 
There has been a high level of interest in the scheme from local townspeople.
"I have two children who have registered for this project and thank God they got the approval. They are now in the process of building two houses on the mountain," said Khaled, 47.
"Life has to go on despite the hardship we've experienced and we must secure good living conditions for our families," agreed 33-year-old Alaa al-Shahoud, also building a house on the mountain.
Another participant, Ramadan Ramadan, 35, said it had given him hope for the future.
"The main reason for building here is the high cost of land in the town where I don't own even a metre," he said. "After the revolution, I lost my job as a policeman. If our current situation continues, I couldn't afford to buy even a little land in the town."