Combating the Scourge of Child Soldiers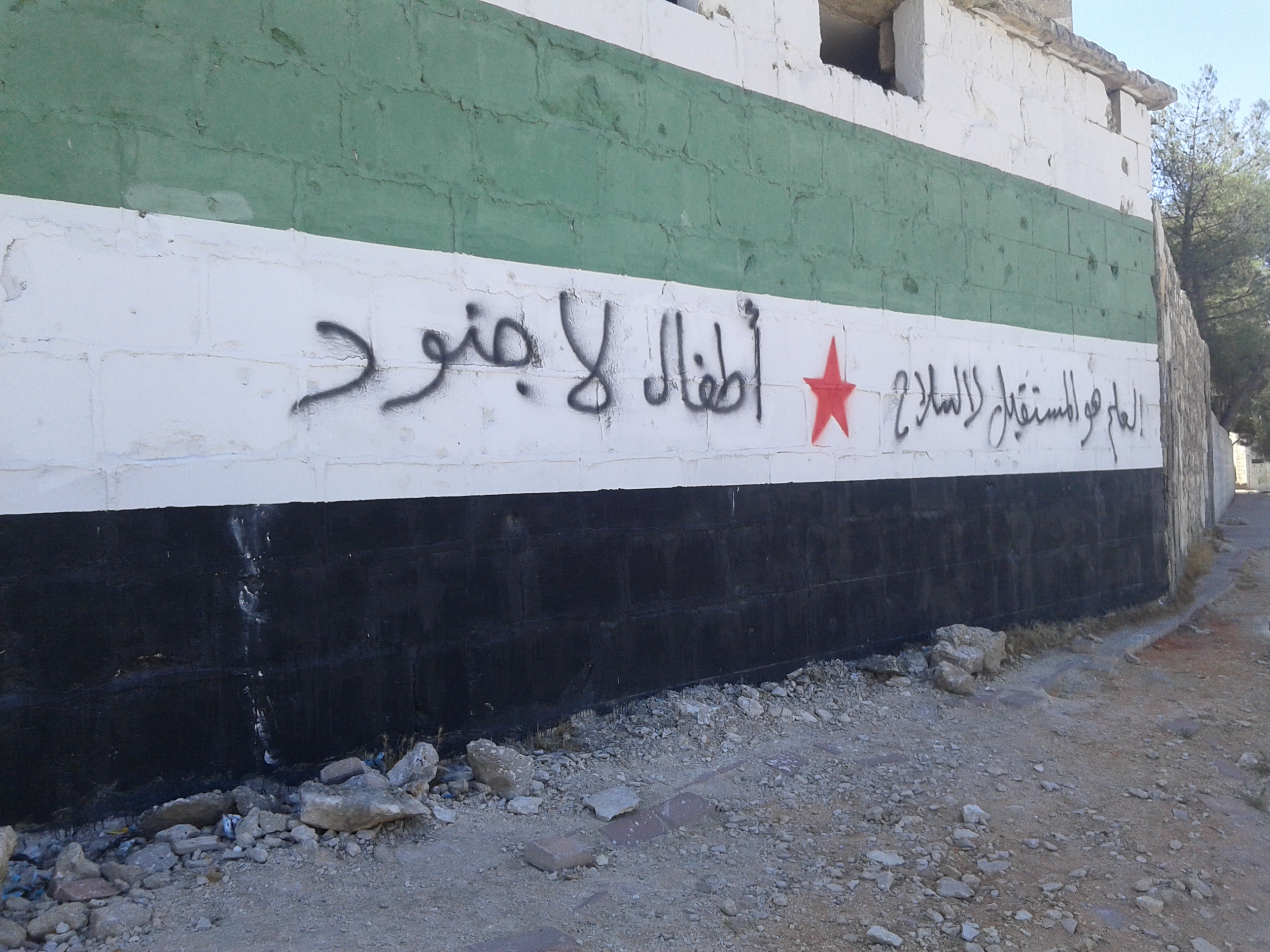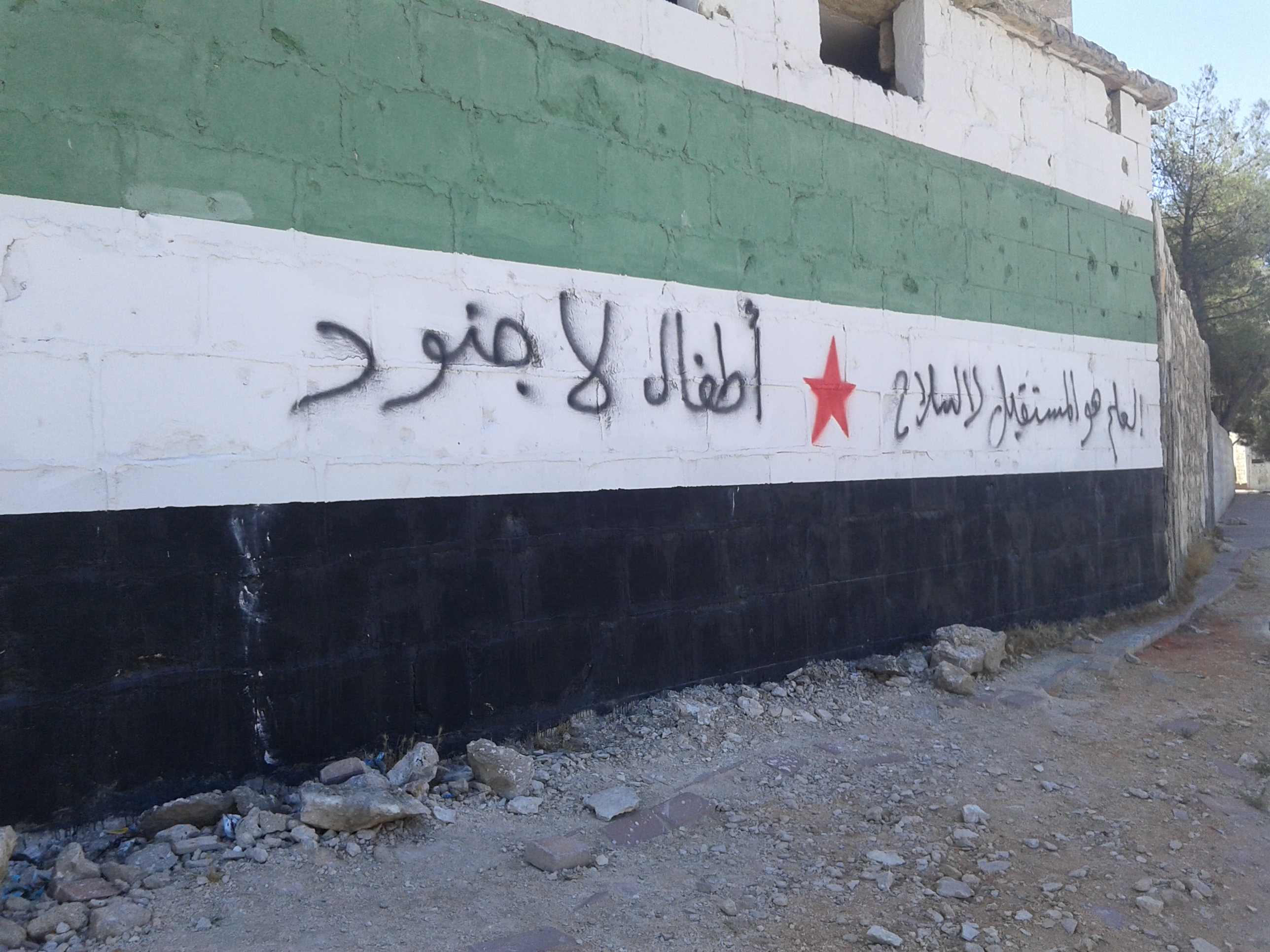 A slogan scrawled on a wall in Idlib. Photo: Marwa Hassan
Activists in Idlib have launched a campaign to prevent the recruitment of child soldiers in the Syrian civil war.
Locals say that the sight of underage boys manning checkpoints and carrying weapons is no longer unusual, with children sometimes offered salaries of between 100 to 150 US dollars as an incentive to leave school and take up arms.
Idlib's Children, Not Soldiers campaign now aims to raise awareness of the devastating consequences of minors joining armed groups.
"Our campaign was launched by the efforts of a group of activists and teachers in order to stop children being recruited for military operations and to encourage them to go to school so they can have a more secure and stable future," said organiser Asim Zidan, 35.
"This campaign was met with great sympathy and a positive reaction from the majority of educational and social institutions, and it will continue and grow."
According to the UN reports, many Syrian armed groups recruit children to their ranks. These include the Free Syrian Army (FSA), People's Protection Units, Ahrar ash-Sham, Islamic State and others.
Children are used for logistics, handling ammunition and guarding checkpoints as well as actual combat. There have also been reports that children amongst refugee communities in neighbouring countries have been pressurised into joining armed groups.
A study by the Office of the Special Representative of the Secretary-General for Children and Armed Conflict revealed that most under-14s associated with groups affiliated with the FSA reported that they had received weapons training and a monthly salary of between 4,000 and 8,000 Syrian pounds (19-38 dollars).
A UNICEF report titled No Place for Children noted that the ongoing conflict had deprived more than eight million children of education. Hundreds of under-15s had been recruited by armed groups, with displacement and poverty making them even more vulnerable to enlistment.
Um Ahmed,  39, lost her 16 year-old son during fighting in Idlib.
"After my husband died in the prisons of the regime, Ahmed was the only source of support for his three sisters," she explained.
"He tried so hard to find a job but in vain, so he decided to join militants to avenge his father's death and help us through the difficulties of life and to afford the rising prices. But he went and didn't come back. His loss is extremely hard for me to bear."
Some children manage to escape the grim future offered by armed groups.
Assaad, 15, ran away from a weapons training camp and recalled how hard it had been to be away from his family, suffering ill treatment and long hours of physical and weapons drill.
Zidan said that the Children, Not Soldier's campaign would spread awareness of this grim reality among the general public.
"The campaign has adopted a media strategy which includes four activities," he said. "Each activity is directed to a certain community group; there are awareness sessions carried out by activists and teachers for children and parents in several regions of Idlib, slogans are posted  in streets and public facilities for the community in general as well as murals created to address the way children think.
"As well as brochures which include awareness-raising materials and explain the goals and ideas of the campaign, and school visits to guide students not to resort to weapons and risk their lives, the group posted the slogan Children, Not Soldiers on websites in order to reach every home," he concluded.
Abdul Rahman, a 41-year old teacher, said he was grateful to the Children, Not Soldiers activists for addressing what he described as a dire situation.
"Our children are vulnerable to exploitation, whether in the labour markets or militia camps, because of poverty and the lack of social awareness, not to mention the decline in the educational system which makes them drop out of school," he said. "Therefore, the idea of the campaign was very important and fit our reality, especially after an increase in the number of armed children inside Idlib.
"This is a big mistake threatening the future of our children, because their normal place is at school and not at checkpoints," Rahman continued. "They should consider education to be a weapon to build their future."
You can read the Arabic version of this article here.