Basamat: Empowering Women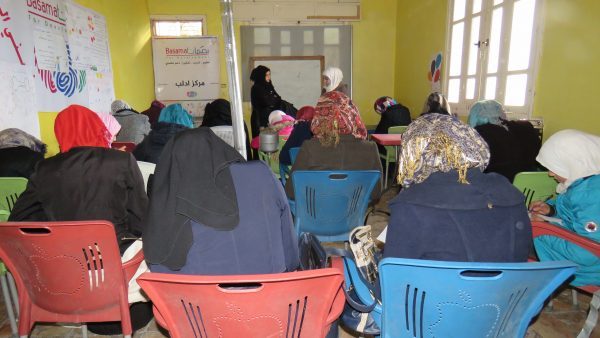 A workshop organised by Basamat. Photo: Mohammed Ibrahim
The Basamat social centre recently opened its fourth sewing workshop in Idlib as part of an effort to boost vocational training in the city.
With many families experiencing financial difficulties, the intention is to empower women to produce clothes and sell them in the neighbourhood in order to help support their families.
This latest workshop, which aims to train 25 participants, is part of a series in which women have been offered the opportunity to learn how to cut and style hair, apply makeup and sew and decorate clothes.
The Basamat social centre in Idlib is one of a number spread throughout Syria and the neighbouring countries. Last year, 1,200 women took courses and workshops at these centres, graduating with a certificate intended to help them find work.
Amina Loul, 26, studied English at the Basamat centre.
"It was a very useful course in which we learnt the basics and principles of English, like grammar and speech," she said. "I am able to read and write sentences in English and I will continue to acquire knowledge. I love English even more, thanks to the centre."
For a long time, there were no training centres for women in Idlib. In any case, women were deterred from accessing services for fear of having to pass through regime checkpoints.  
Since the opposition took control of Idlib, several women's centres have been opened, including Basamat.
 Ahed al-Haj Hassan, the director of the Bassamat centre, noted that it was one of several located in other areas of Idlib, Aleppo, the Damascus countryside and neighbouring countries.
"Our centre has worked on professional and cognitive empowerment, such as having Arabic and English classes, political empowerment, human rights seminars and psychological support sessions, as well as training in nursing and physical therapy," she said. "The centre has a safe playground which allows every woman who attends our courses to take her children with her so that there is no reason to prevent her from attending while the children can stay in the playground."
Hassan continued, "The war has forced every woman to be a nurse, a teacher and a worker in her own home. In particular, many women have lost their breadwinners, like their husbands or fathers. Most found themselves in a situation where they have to work and they need all kinds of empowerment so that's what the centre offers."
Wadad Rahhal, 47, is an administrative assistant at the Basamat centre in Idlib and a trainer in political empowerment.
"This year we are looking forward to organising four workshops on political empowerment, which aim to familiarise women working in women's centres and organizations with their rights and duties," she said. "We finished the first session a short time ago, which included the definition of women's political empowerment and topics on the principles of human, women's and children's rights."
Rahhal continued, "We have adapted these sessions to suit the traditions of Syrian society and the local environment. The last session of political empowerment was very popular among women because it was a process in which we widened their horizons to discuss real-life situations." 
Hassan said they planned to train 1,600 women in 2017 in various fields.
"Between the Basamat centre and other women's centres lies a great hope," she said. "A huge burden is placed on Syrian women and we need to help and empower them so they can give back something in return."