Aleppo, I Will Return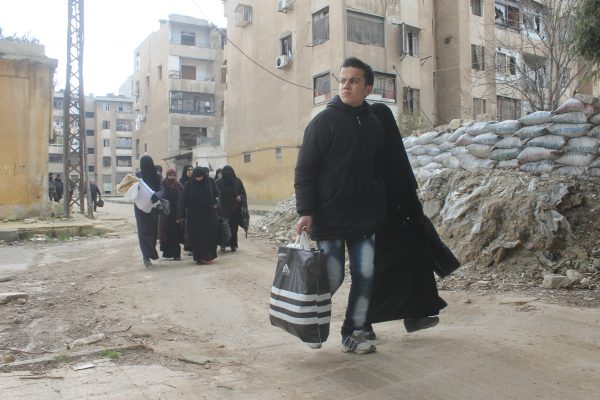 The Bustan al-Qasr neighbourhood in Aleppo. Photo by : Mujahid Abu al-Jud
Fierce bombing had become an everyday part of life in my beloved city of Aleppo. But when the regime began their final push to drive the opposition out, the siege became so suffocating we could no longer support even our most basic needs.
On November 16, 2016, we woke up to the sound of rockets and barrel bombs exploding all around us. Regime forces had reached the outskirts of our neighbourhood of al-Shaar, having advanced through the rest of the city.
My family, my fiancé and I fled to the Bustan al-Qasr neighbourhood. As we left, we could see the massive destruction sustained by our neighbourhood. Our home had also been damaged in the shelling.
I cannot describe my feelings as I left the neighbourhood where I had spent my whole childhood. How can you lose everything in one moment?
We arrived in the Bustan al-Qasr neighbourhood, sad and fearful. Barely a week later, we learned that the regime was about to advance into Bustan al-Qasr too.
Where should we go? My family decided to return to al-Shaar, now under regime control, to see what was left from our house. Also, my father owns a goods warehouse, where he spent most of his life, so he returned to check up on it.
My brother and I didn't go back with my parents. We stayed in Bustan al-Qasr with my fiancé because I was afraid of being arrested by the regime. I had been one of the first to participate in the revolution and indeed had sacrificed my studies for it.
My 19-year-old brother also feared being summoned for compulsory military service so stayed at home too. We remained in Bustan al-Qasr neighbourhood, fearing we would never see our family again.
I asked my father, my mother, and my siblings to forgive me for everything that I had ever done wrong to them. It was like a farewell before death.
Agreements were also being made to evacuate the civilians in Bustan al-Qasr. My brother, my fiancé and I were waiting for a miracle. Our exit, if it happened, would be towards the western part of Aleppo, which was under the control of the opposition. This was what usually happened; civilians are evacuated to opposition areas, where the bombing follows them.
But the next day we woke up to a new threat. The forces of the regime had surrounded the neighbourhood from all sides. Would we die before we made it out?
To the sound of aircraft, we tried to escape the neighbourhood via a risky route. We were afraid that regime forces would see and arrest us.
We arrived tino the neighbourhood of Zabadiyah, where I stayed with my fiancé's family amidst heavy shelling, without water, electricity or any means of communication. We sat there waiting for death.
On December 13, 2016, a new agreement was reached to evacuate civilians. That same day, we left carrying just a few of our personal belongings, many of which we ended up discarding along the way because we had to go by foot.
Families were heading towards the crossing, people were scrambling to escape. We saw buildings that had bombed, with black smoke still filling the skies of Aleppo. Some people set fire to their houses and cars themselves so that the shabiha [regime militia) wouldn't be able to take them over.
People were struggling for hours in the chaos and cold weather.
A convoy of 20 buses began moving to evacuate some sick and wounded civilians, only to come under fire. Several people were wounded in the shooting, including a civil defence worker and a driver.
Then we were told, "Go back, the agreement was breached."
We returned to Zabadiyah, disappointed and exhausted. We waited for five days, then tried again.
This time we were able to get on one of the green buses, which had once been used for public transport but which were now being used to evacuate civilians.
We waited in the bus for more than eight hours, but it didn't move.
Then, on December 18, 2016, we finally left.
When we passed through a regime-controlled area, an officer got on the bus to search us. Then he shouted, "Who wants to stay in the army-controlled areas, or has relatives there?"
No one answered him. Everyone looked at him, eyes filled with tears of fear and sorrow for what had happened.
Even if we had 1,000 relatives there, we could not stay in the areas that had fallen under regime control. My family is in those areas and I cannot stay.
Eventually I arrived with my brother and my fiancé's family to the countryside of western Aleppo. My fiancé followed in the next convoy.
We keep moving between opposition-held villages and towns in the countryside, from one friend's house to another. We are homeless.
I still ask myself, "When will I go back to Aleppo?"
All I know is that I'm definitely going back.
Aisha al-Mutaz, 22, was a second year French literature student when the revolution began but stopped studying because of her involvement with the protest movement. She now works with civil society organisations.